INCLUDED: Coverstitch Hem Guide (40177371)
Introducing a specialized cover stitch and chain stitch sewing machine that takes sewing up a notch.
Create a Professional Finish
Cover stitch. Perfect for various applications such as simple hems, sleeve cuffs and necklines. Since the stitching stretches, it is ideal for stretch fabrics.


Chain Stitch. Since the lower thread forms a chain on the wrong side of the fabric, the stitch is strong when it is stretched making it ideal for stitching the waist and side seams of pants. It also does well as decorative stitching for necklines. Special Chainstitch presser foot is an Optional Accessory not included with the machine. However, You can still do chainstitching with the regular foot that comes with the machine. .


Presser Foot Lifter. The presser foot is higher as its tip in order to allow the fabric to be easily inserted at the start of sewing. In addition, raising the presser foot lifter to the first position raises the presser foot to 10mm.


Adjustable differential feed—Adjust the differential feed to sew beautiful finishes, even with stretch fabrics such as knits and georgette.


Simple looper threading—The looper can easily be threaded since it can be lowered at the press of a button.


Extension plate with seam guide lines—The seam guide lines on the extension plate are a useful aid for sewing.


Adjustable presser foot pressure—The presser foot pressure can be adjusted according to the type of fabric being sewn.


Presser Foot with guide—A presser foot equipped with a guide that presses down on both the left and right sides is provided as a standard accessory.


Exterior thread cutter—The exterior thread cutter is useful when removing the fabric after raising the presser foot at the end of sewing.

Below is a playlist of all instructional videos for the JUKI MCS-1700QVP:


Click here to access the Juki warranty registration form
US Warranty 5 Years Mechanical, 2 Years Electrical, 90 Days Adjustments on defects in material or workmanship.
Extended US Warranty: Extended Warranty Available
Non-US Warranty: 30 days parts and labor
Specifications
Catalog Brochure for Juki MCS-1700QVP
Manual for MCS1500 and MCS1700QVP
No. of needles:
3
Needle system:
130/705H
Stitch width:
Cover Stitch - 2.5/5mm
Stitch Length:
1-4mm
Differential Feed:
no waving in knits N-2, no puckering 0.7-N
Presser Foot Lift:
8mm/10mm
Sewing Speed
Up to 1,350 stitches/min
Weight:
15.5 lbs. (main unit)
Power supply/power consumption (100v models):
115W/ 50/60Hz
Dimensions:
11" (L) x 13.1" (W) x 11.2" (H)
Stitch choices:
Cover stitch:
3 needles, 1 looper: 5 mm (0.2")
2 needles, 1 looper: 5 mm (0.2")
2 needles, 1 looper: 2.5 mm (0.1")
Chainstitch: 1 needle, 1 looper
Presser feet:
Cover stitch (compensating foot), snap on sole
Chainstitch (Optional Accessories), with tape guide, snap on sole
Included Accessories
Accessories:
Standard presser foot: used for regular overlock stitching

Coverstitch hem guide: used for setting the folded width of the fabric and the stitching position for coverstitching.

Electronic foot control

Needle set 130/705H

Spool caps

Tweezers

Brush/needle inserter

Net

Hexagonal screwdriver

Accessory bag

Dust cover

Other Images
Juki MCS-1700QVP 2-3 Needle 1-4mm Cover Stitch + 1 Needle Chain Stitch Machine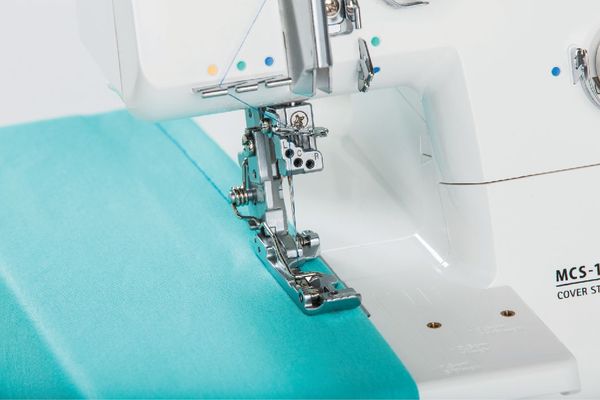 Chainstitch presser foot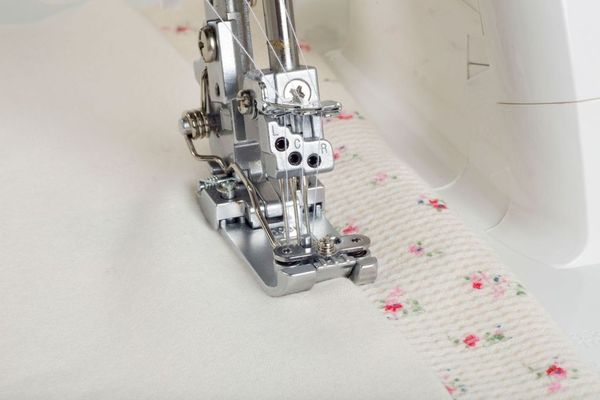 Standard presser foot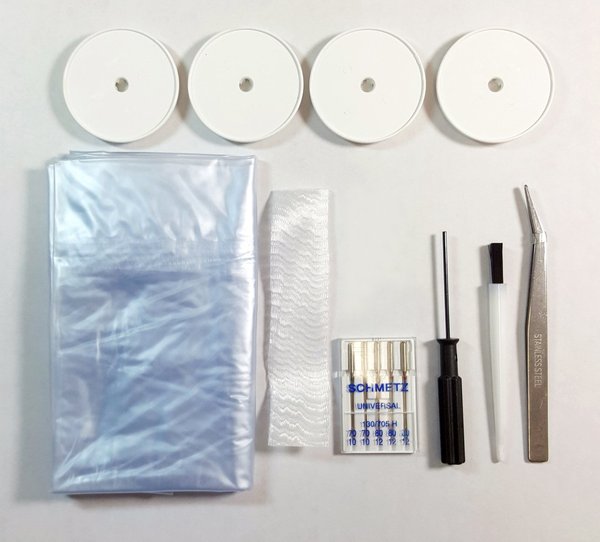 Included accessories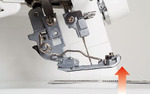 Presser foot lifter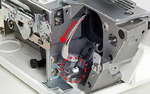 Simple looper threading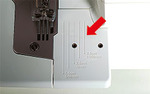 Extension plate with seam guide lines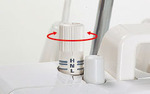 Adjustable presser foot pressure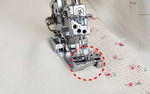 Presser foot with guide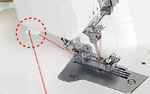 Exterior thread cutter
Bundle & Save
Get additional savings when you purchase any of these items along with this product.