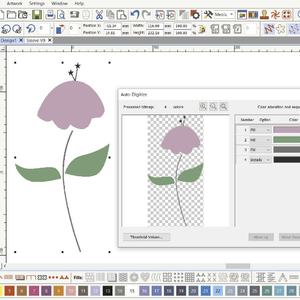 Your favorite image as embroidery design
• Updated auto-digitizing
• Enhanced full digitizing
• Few clicks, ready to stitch!
Take artwork and turn it into an embroidery design – all done by using the powerful, updated Auto-Digitizing and Full Digitizing tools. In just a few clicks your artwork is ready to stitch. With Full Digitizing you can create your embroidery design from a sketch and digitize it manually. This allows even more flexibility right from the beginning.