Click here to download Bernina's new app. View products, promotions, and more!
*Financing Available*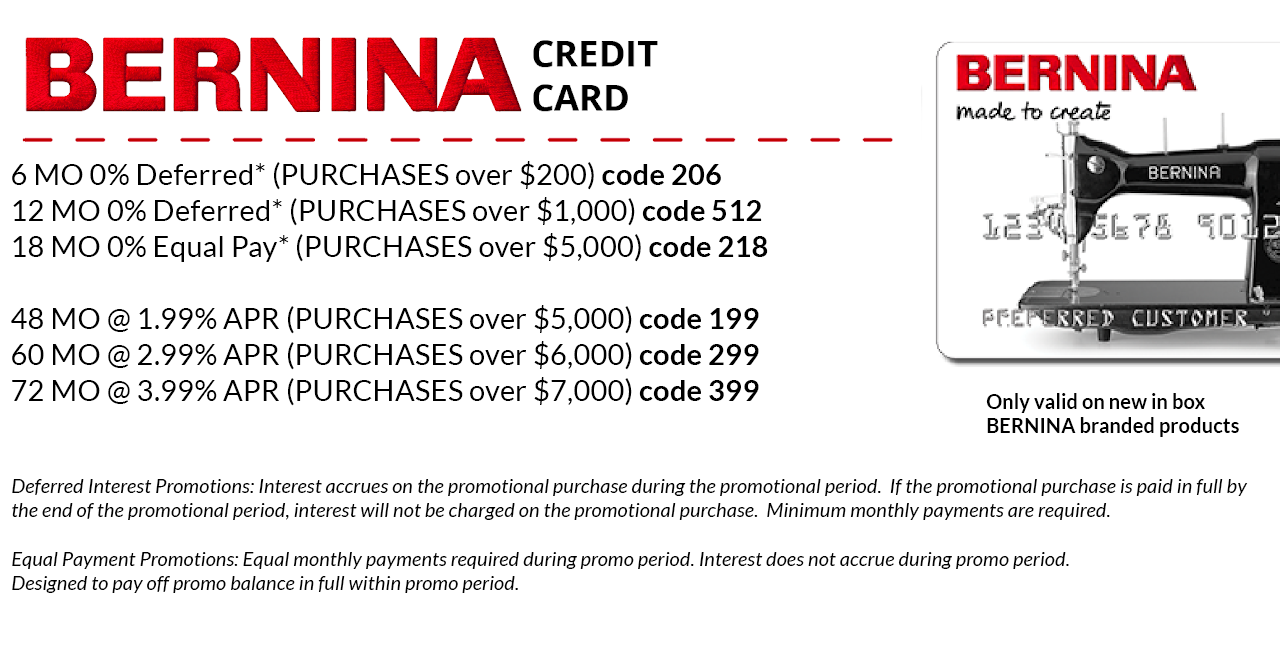 Click HERE to Apply Online.
BERNINA 740
Comfortable sewing and embellishing

Handle large quilts with ease

Get always the right tension

Enjoy superb fabric feed

Precise and perfect stitches

Simple, modern operation

Quiet & precise sewing:

Ideally suited for decorative stitches

Sew & embroider for longer periods of time

More time for your creativity

The BERNINA Hook sews high-precision stitches up to 9 mm in width with speeds up to 1,000 stitches per minute. The bobbin holds 70% more thread than standard bobbins.

Enough space for creativity:

Enough space for your creations

Plenty of room for large projects

Enjoy full comfort while sewing

The extended freearm offers 10" right of the needle. Therefore you will enjoy a grand sewing area for grand ideas.

Automatic features save time:

No manual cutting at the end of a seam

Enjoy semi-automatic threading

No manual lowering of the presser foot

Thread is cut automatically when you reach the end of a seam or a color change in embroidery. The presser foot lowers automatically at the beginning of a seam.

Choose & save the perfect stitch:

Alter stitch length or stitch width

Alter the needle position

Alterations of stitch details are remembered

Your personal settings can be saved and retrieved at will and the USB connection even allows you to import and export stitches and stitch patterns or combinations.

Perfect tension for perfect stitches:

Ideal tension for each stitch type

Achieve finest stitching results

A BERNINA innovation

The BERNINA Adaptive Thread Tension adjusts the tension electronically to the selected stitch width, length, speed, and needle position on each penetration of the needle into the fabric.

Ask your on-screen support:

Enjoy intuitive navigation

Find the proper needle and foot

Learn more about sewing and embroidery

The Sewing Consultant and the built-in tutorials offer direct on-screen support and answers to your questions at any time, day or night.

Sew silk & leather like a pro:

Handle special materials with ease

Enjoy superb fabric feed

Optimum visibility while sewing

The innovative BERNINA Dual Feed is easily engaged when needed and tucks completely out of the way when it's not.

The B 740 won over Swiss designer Mathias Ackermann right from the start:
"Working with a BERNINA has an inspirational effect on my designs. I love working with the BERNINA 740, and not just because of its well-engineered technology. Features such as the threader and the BERNINA Stitch Regulator thrill me to bits. What's more, its versatility inspires me with new ideas, and its user-friendliness is simply brilliant. It also sews the finest fabrics, effortlessly"




















US Warranty 25 years head, 5 years electronics, 1 years labor
Extended US Warranty: Extended Warranty Available
Non-US Warranty: 30 days parts and labor
Specifications
Pattern start/end function

Elongation

Stitch length maximum in mm: 6

Maximum stitch width in mm: 9

Programmable Securing Function

Pattern mirroring

Free Hand System (FHS)

Number of stitch patterns (incl. alphabet) total: 800

Utility stitches total: 29

Buttonholes (incl. eyelet) total: 11

Automatic buttonhole length measuring system

Automatic buttonhole

Manual multi-step buttonhole

Button sew-on program

Darning programs: 2

Decorative stitches total: 200

Quilting stitches total: 23

Cross-stitch programs: 21

Sewing alphabets: 5

Reverse sewing

Hook system: BERNINA Hook

Maximum sewing speed (stitches per minute): 1000

Sewing space to the right of the needle: 10"

Color touch screen: 4.3" / 10 cm

Drag & Drop

LED sewing lights: 30 LED

Multi-function knobs

Needle positions: 11

Sewing in each needle position

Number of spool holders: 2

Semi-automatic needle threader

Automatic presser foot lift

Adjustable presser foot pressure

Automatic presser foot pressure

Manual thread cutter: 3

Automatic thread cutter

Pivot / hover function

BERNINA Dual Feed (BDF)

Adaptive Thread Tension

Upper thread indicator

BSR functionality, straight stitch and zigzag

BERNINA foot control with back-kick function

Create and save stitch combinations

Memory (short-term/altered stitches)

Memory (long-term/altered stitches)

Start/stop button (stitching without foot control)

Slide speed control

Bobbin winding while sewing/embroidering

USB interface for PC connection

USB interface for USB data stick

Changing stitch settings while sewing

Needle stop up/down

On-screen help

Creative consultant

Sewing tutorial

Personal program

Setup program

Eco Mode

Machine weight: 30.9 lb

Machine size: 20.5" / 8.4" / 14.1"
Included Accessories
4 Bobbins
1 Foam Pad
Selection of needles
Soft cover with pocket
3 spool discs
Seam ripper
Height compensation tool
Screwdriver red
Brush
Power cable
Foot control
Reverse Pattern Foot #1C
Reverse Pattern Foot #1D
Buttonhole Foot with Slide #3A
Zipper Foot #4D
Open Embroidery Foot #20C
Freearm Slide-on Table
Knee lifter/Free-Hand System (FHS)
Touchscreen Pen for 7 and 8 Series
Sewing Machine Oil
Bernina Accessory Box