Brother WiFi machines FREE Download: Design Database Transfers from computer, or ArtSpira App (
Artspira information from Brother USA
) to digitize hand drawings on mobile device screen directly to machine embroider.
* Synchrony Bank Sewing & More Fixed Payments 0% No Interest Financing Option with approved credit! Click HERE to Apply Online for Synchrony Bank Sewing & More Credit Card Approval for Optional 0% Financing
Brother Premium Warranty 2 years parts and labor, 6 years electronic parts, 25 years metal casting..
Sewing and Embroidery in one Machine
- With over 780 built-in embroidery designs, 760 built-in sewing stitches, modern technology, and the integration of Artspira‡, the Stellaire2 Innov-ís XJ2 sewing and embroidery machine will be your go-to machine.
Built-in Disney Designs
- The Stellaire2 Innov-ís XJ2 has the magic of 101 Disney embroidery designs built right in, featuring Mickey Mouse, Minnie Mouse, Goofy, and Pluto. Plus, your favorite characters from Frozen, Finding Nemo, and Cars! Brother customers get exclusive access to even more Disney and Disney•Pixar embroidery designs through the iBroidery.com Download Center‡.
Wireless Enabled
- The Stellaire2 Innov-ís XJ2 is wireless enabled. You can receive software update notifications and send embroidery files from your PC to your machine via the free downloadable Design Database Transfer (no USB required). This allows for easy data management for all your designs and projects.
Mobile Apps
- Design line-art-inspired drawings on your mobile device and transfer your new designs to your Stellaire2 Innov-ís XJ2 with the Artspira‡ mobile app via a wireless connection. With Artspira‡, creating a custom personal work of art has never been easier. Use the My Design Snap mobile app‡ to turn line art, handwriting, or printed clip art into embroidery data. It's as easy as 1-2-3. Be alerted when it's time to change the thread or when your project is complete with the My Stitch Monitor App‡.
Embroidery Positioning Function
- Enjoy innovative embroidery features on the Stellaire2 XJ2 with the time-saving 2-Point Positioning with LED Pointer, which will help you align designs for pin-point embroidery placement.
Sewing Features
- Add decorative tapering to projects with the Stitch Tapering feature and enjoy the ease of use and redesigned Multi-Function Foot Controller. Other notable features include easy removal of the Needle Plate, an upgraded N+ foot (from the XP3).
My Custom Stitch
- For the ultimate sewing and embroidery personalization, the advanced My Custom Stitch feature allows you to create a stitch or pattern, save it, and then use that unique stitch or pattern for all your projects.
Generous Workspace
- The Stellaire2 Innov-ís XJ2 has a generous 56 inches of workspace, a spacious 11.25" from needle to arm, exceptional LED lighting, a clear and sharp 10.1" LCD digital display, and a number of cutting-edge apps for almost any project.
LCD Display
- See your designs come to life on the large 10.1" built-in high-definition LCD display and easily scroll through the menus, navigate the crystal-clear icons, and see your design properties in preview mode. In addition, you can watch one of the many educational tutorial videos online to get the most out of your Stellaire2 Innov-ís XJ2 sewing or embroidery experience.
Embroidery Patterns
- Loaded with a library of built-in embroidery designs, the Stellaire2 Innov-ís XJ2 has a fun assortment of patterns that will inspire. First, browse the nine Large Size Patterns and the three Light Sketch Flower patterns, including floral and wildlife motifs. Then, scroll the seven Line and Corner patterns that feature decorative corners, flowers, and an adorable bunny face and the three In-The-Hoop patterns that feature a Pin Cushion (disguised as a hedgehog), a Scissor Sheath, and a decorative Scrap Bag.
My Connection Feature
- The value-packed My Connection feature will allow you to send files back and forth between your Stellaire2 Innov-ís XJ2 and select ScanNCut DX machines. When the design or pattern is sent from machines when connected to the same wireless network, the ScanNCut DX to a Stellaire2 Innov-ís XJ2, it can be retrieved in My Design Center. This feature takes the place of using a USB to transfer designs between machines and is exclusive to ScanNCut DX machines only.
My Design Center
- The My Design Center has 30 basic shapes, 30 closed shapes, 30 open shapes, and 17-line types that can be used, alone or combined, to create unique embroidery projects. In addition, my Design Center has more selection choices, such as line types and region motifs, for almost any project.
Yarn Couching
- Turn embroidery letters with yarn into a cool 3-D effect using the Couching Embroidery Foot
Matrix Copy Function
- Create unique and distinctive designs with the Matrix Copy feature. Add multiple copies of the same design on your project for one-of-a-kind patterns
US Warranty 25 Years Head, 6 Years Electrical, 2 Years Parts, 2 Years Labor
Non-US Warranty: 30 days parts and labor
Specifications
Weight: 37.39 lbs.
45.61 lbs. -with embroidery unit attached
Footprint: 26.06" L x 12.64" W x 13.70" H
36.06" L x 20.63" W x 13.70" H -with embroidery unit attached
Basic Features
LCD Display Size (Diagonal) Inches: 10.1" (5.3 x 8.5)

Display (Number of Colors): Up to 16,777,216

Stitch Select: Clear Touch Panel

On-Screen Help

Built-in Languages

On-Screen Editing

Lighting: LED 10" Lighting

Thread Tension: Automatic

Needle Threading System: Automatic

Easy Bobbin Winding

Adjustable Bobbin Winding Speed

Thread Sensor: Upper and Bobbin

Automatic Thread Cutter

Quick-Set Bobbin

Full USB 2

Computer Connectivity with Update Capability

Mouse Capability by USB: Optional

Media Type: USB

Embroidery Features

Maximum Embroidery Area (X x Y): 9.5" x 14"

Maximum Embroidery Speed (Stitches Per Minute): 1,050

Standard Included Frames: 4 (9.5" x 14", 9.5" x 9.5", 5" x 7", 4" x 4")

Built-in Brother Embroidery Designs: 788

Built-in Embroidery Designs Featuring Disney/Disney•Pixar Characters: 101

Built-in Frame Designs: 10 Shapes x 14 Stitch Patterns

Built-in Embroidery Lettering Fonts: 26

Thread Wiper

Resume Function

Trial Position/Layout Function

Built-in Border Function and Designs

Color Sort Feature

Sewing with Embroidery Unit Attached

Appliqué Creator Function: Create Multiple Appliqué in One Hoop

Automatic Feed Thread Cutting

Curving Text on Screen Editing

On-Screen Letter Editing

Multiple Pattern Selection

Space Reduction Among Embroidery Alphabets

Pattern Rotating: 0.1, 1, 10, or 90 Degrees

Drag and Drop Editing

On-Screen Automatic Density Adjustment

My Design Center Feature

No-Fuss Stippling at Embroidery Edit

Basting Stitch Before Embroidery

Forward Backward Stitch: 1, 10, 100, 1000, Progress Bar

Droplight Embroidery Positioning Marker

My Design Snap Mobile Application

2-Point Embroidery Positioning Function with LED Pointer

Sewing & Quilting Features

Bed Area (Depth x Width) Inches: 8.2 x 17.1

Workspace (Height x Width) Inches: 5 x 11.25

Maximum Sewing Speed (Stitches Per Minute): 1,050

Knee Lifter

Feed Dog: 7 (Longer Version)

Back to Beginning Key

Standard Presser Feet: 15

Built-in Sewing Stitches (Includes Buttonhole Styles): 760

Buttonhole Styles: 15 One-Step + 1 Four-Step

Built-in Sewing Lettering Fonts: 4 (3 Alphabet + 1 Cyrillic)

Stitch Width: 7mm

Stitch Length: 5mm

Reinforcement Stitch

Sew Straight Laser Vision Guide

MuVit Digital Dual Feed

My Custom Stitch Feature

Side Feeding

Start/Stop Button

Twin Needle Setting Key

Needle Position Key (Up/Down)

Automatic Height Adjuster (AHA) Feature

Presser Foot Pressure Adjustment and Leveling

Pivot Function

Drop Feed/Free-Motion

Included Free-Motion Quilting Feet 3

Built-in Quilting Stitches

Wide Table: Optional
Included Accessories
Embroidery Foot "W+" with LED Pointer
Embroidery Couching Foot "Y"
Yarn Guide for Embroidery Couching
Yarn Threader
Zigzag Foot "J"
Advanced Monogramming Foot "N+"
Overcasting Foot "G"
Zipper Foot "I"
Blind Stitch Foot "R"
Button Fitting Foot "M"
Buttonhole Foot "A"
Compact Dual Feed (Digital Dual Feed) Foot
Regular Dual Feed Foot (on Compact Dual Feed Foot)
Straight Stitch Foot
Free Motion Quilting Foot "C"
Free Motion Echo Quilting Foot "E"
Free Motion Open Toe Quilting Foot "O"
1/4" Quilting Foot (Piecing Foot)
Straight Stitch Needle Plate
Embroidery Frame Set, 4" x 4"
Embroidery Frame Set, 5" x 7"
Embroidery Frame Set, 9.5" x 9.5"
Embroidery Frame Set, 9.5" x 14"
Embroidery Positioning Sticker Sheets (4)
Embroidery Needle Plate Cover
Knee Lifter
Grid Sheet Set
Stabilizer
Touch Pen (Stylus)
Accessory Case
Operation Manual
Quick Reference Guide
Additional Accessories Included in the Box
Other Images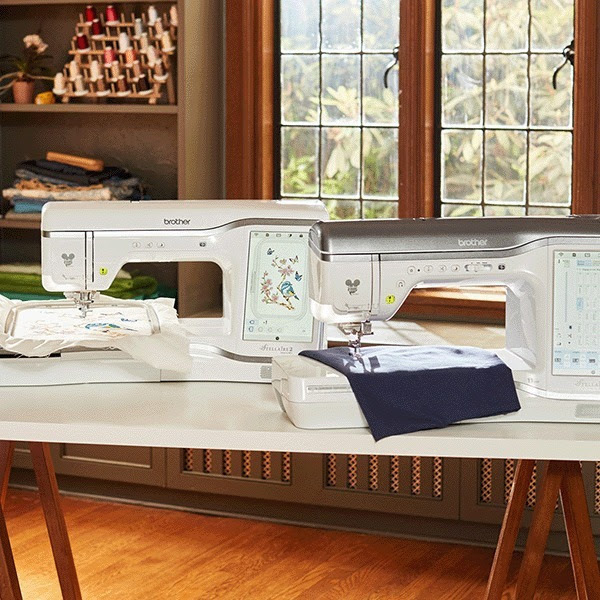 Stellaire2 Innov-ís Series The new XE2 and XJ2 machines have a full range of impressive features that will give you a complete crafting experience with Disney designs included and more!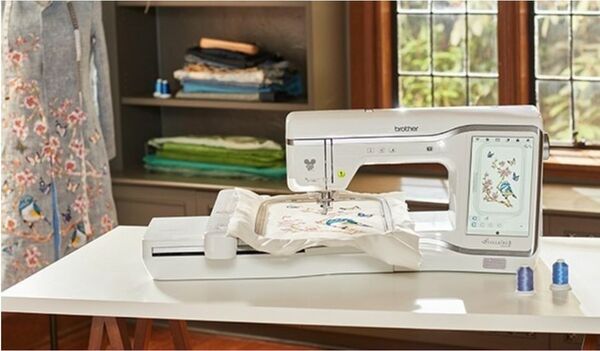 Stellaire2 Innov-ís XE2 The legacy continues. The modern Stellaire2 Innov-ís XE2 Embroidery Only Machine with Disney is continuing the Brother tradition of innovation and taking it to the next level. With 788 embroidery designs, plus 101 Disney exclusive designs, and wireless integration with Artspira, the Stellaire2 Innov-ís XE2 will elevate your embroidery skills.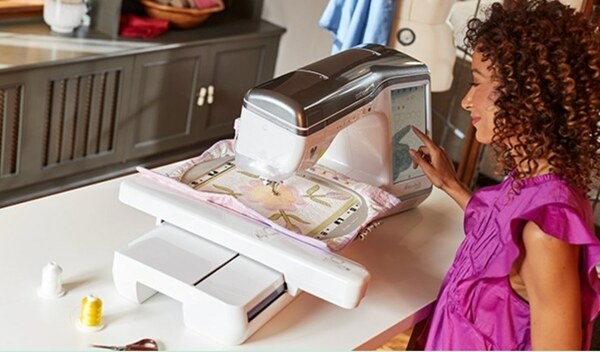 Stellaire2 Innov-ís XJ2 This combo machine has a full range of impressive features that will give you complete sewing and embroidery experience; the Stellaire2 Innov-ís XJ2 is a sewing and embroidery dream.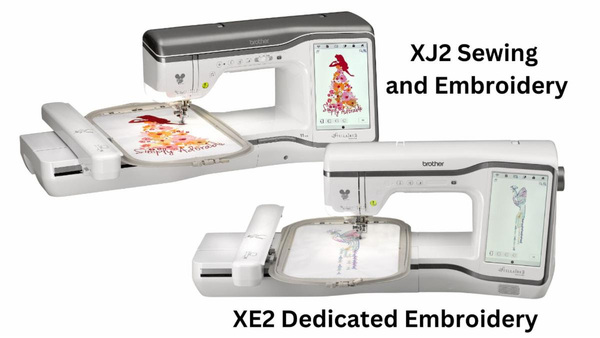 Introducing PrintModa Studio Create custom fabric prints from photos and images with the new Brother PrintModa Studio Fabric Printer. Using standard Brother ink-jet ink, Brother created a special process that achieves vibrant and lasting prints on quilts, fabric banners, and all sorts of projects! Powered by Artspira, Brother's creative app, the sky is the limit to your creativity! George gives an in-depth review of PrintModa Studio Introductory Offer! More Information   Introducing Brother Stellaire 2   The new Stellaire 2 series by Brother has achieved state-of-the-art status with such features as the 2-point laser positioning for effortless embroidery placement, and My Design Center that gives you the ability to create designs without a computer. With its large 9 ½" x 14" embroidery area, your embroidered projects will be taken to an entire new level. The sewing and embroidery features of the XJ2 are second only to Brother's own Luminaire XP3, but it outperforms most all other brands in the top-of-the-line category.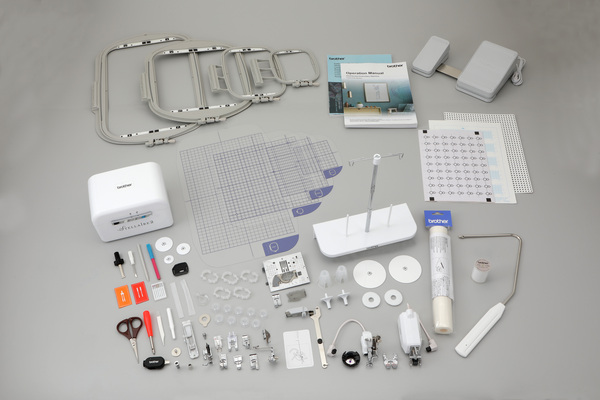 Brother XJ2 Stellaire accessories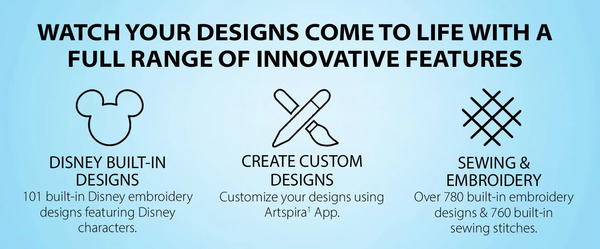 Watch your designs come to life with a full range of innovative features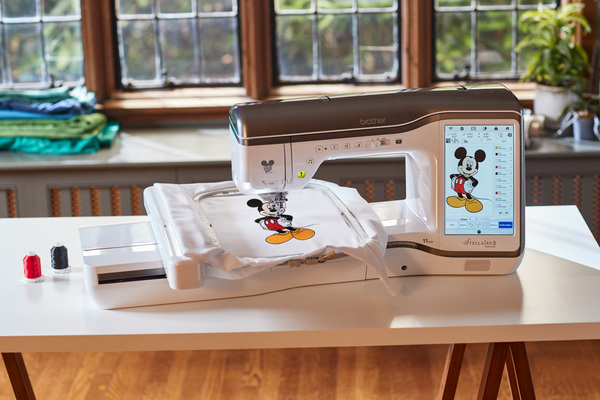 Innovative Capabilities - Such as Precise Needle Drop Positioning, Color Shuffling Function and much more.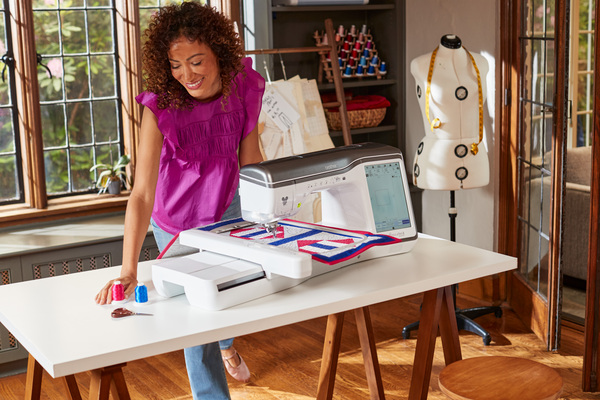 Unique Design Techniques - Enhance your creations using techniques like Creative Yarn Couching or Matrix Copy.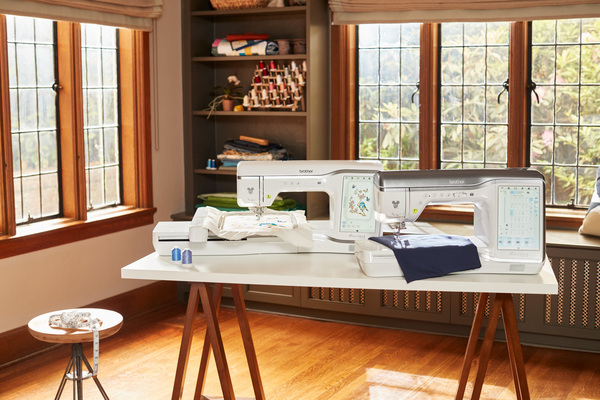 Stellaire 2 XE2 (sold separately) and SJ2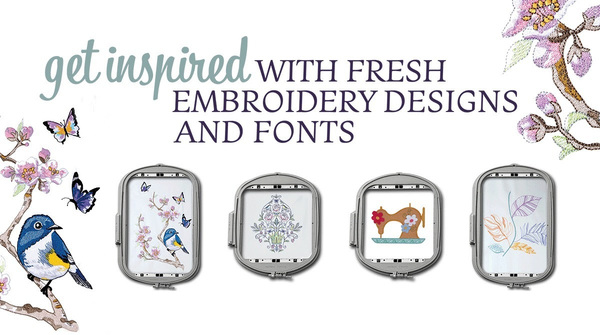 Get inspired with fresh embroidery designs and fonts.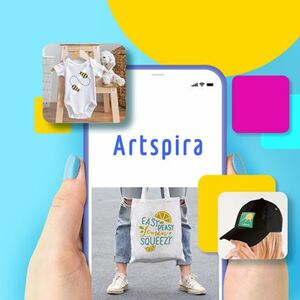 Create with Artspira- An all-in-one cloud-based design platform from Brother
The SAMS360 is only for the Luminaire.
The XP embroidery unit is stronger to hold the heavier hoop.

Q: Will the XE1 or the XE2 be able to auto fill quilting stitches around an embroidery design?
A: Yes it will.

Find and embroidery design, click "Edit" then you can choose from Stippling, Echo, and all of the other fills included in My Design Center to encase the design, you can choose how far it sets off of the design as well.