Take along all your accessories for your machine in this well-designed travel case. Three levels of foam protect your valuable feet, bobbins, BSR and walking foot in specially designed compartments. Matches your BERNINA Suitcase System in black with red trim.
BERNINA accessory case, a place for everything
The BERNINA accessory case is lightweight, yet sturdy enough to store and protect accessories. It holds up to 43 presser feet as well as other small accessories, keeping everything together in one spot. Soft padding and a secure zipper allow accessories to be safely taken along wherever you go. The 3 individual layers are easily removed offering a versatile, open space when needed.
*Designed for:
43 presser feet (incl. BERNINA Stitch Regulator (BSR), Three-sole walking foot with seam guide #50)
9 Bobbins
2 Bobbin Cases
3 Couching inserts
3 Echoquilt-Clips
3 Stitch plates
ORGANIZE YOUR FEET WITH THE BERNINA ACCESSORY CASE
Other Images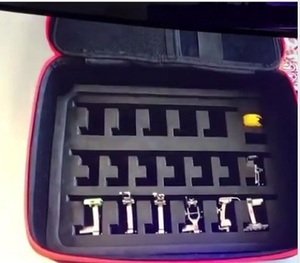 Bernina 104265.70.00 Accessory Travel Case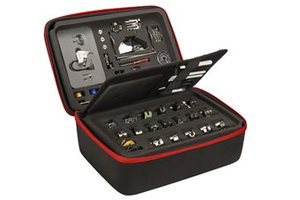 Bernina 104265.70.00 Deluxe Travel Case for Accessories and Feet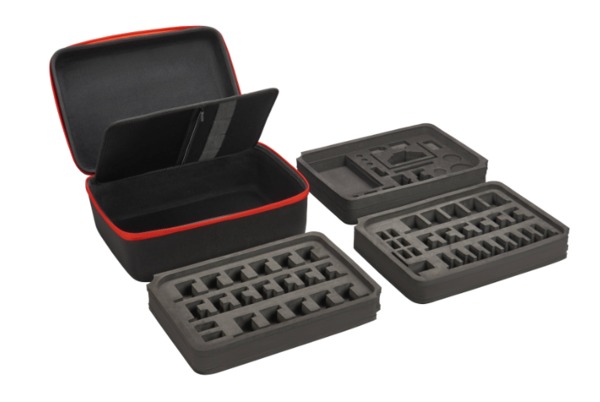 Accessory Case Organized. Safe. Secure. Perfect. Stores up to 43 presser feet. Space for bobbins, stitch plates and more* 3 removable foam layers. Zippers make it secure for travelling.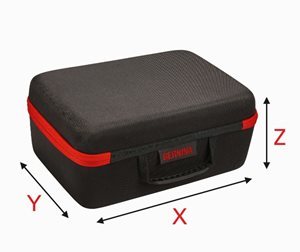 Accessory Case dimensions: X 33 cm / 13.2''. Z 15 cm / 10.4''. Y 24 cm / 9.5''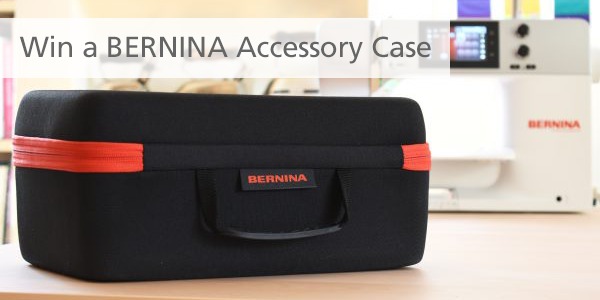 With the purchase of any Bernina over $999 as supplies last.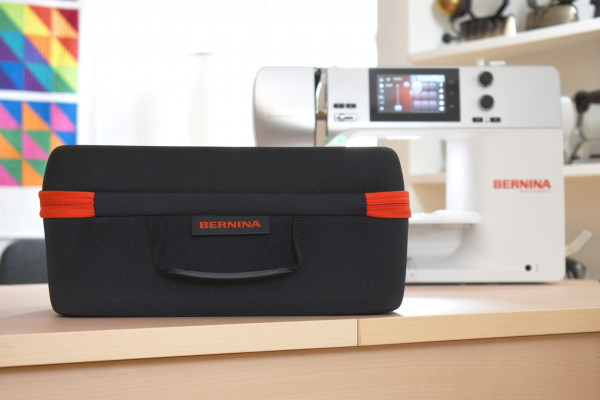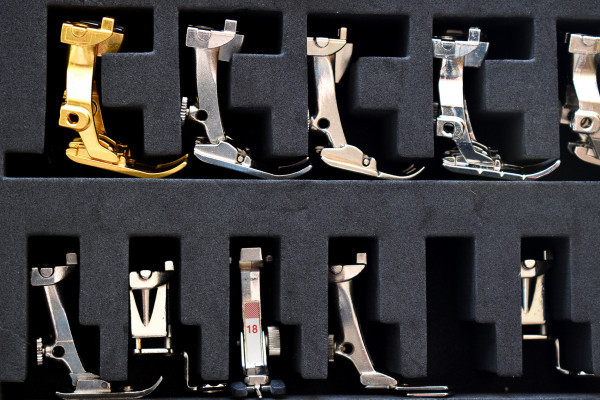 "This case includes the perfect size cubby holes for BERNINA feet, both larger feet like the Reverse foot pattern #1D, and smaller profile feet like the Button-sew-on foot #18. The foam is stiff enough to keep the feet firmly in place. What I love best about the Accessory Case is how you have the ability to organize the feet in a way that works best for you."—Erika Mulvenna for We All Sew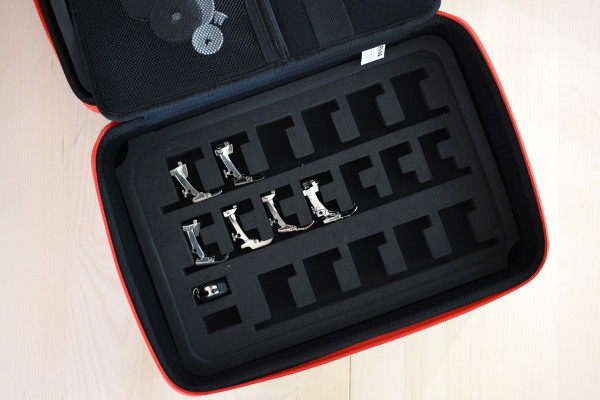 "At the bottom of the case is a tray that holds a total of 18 feet and two of the large BERNINA Hook Jumbo bobbin cases. I use this space for feet that I don't use as often."—Erika Mulvenna for We All Sew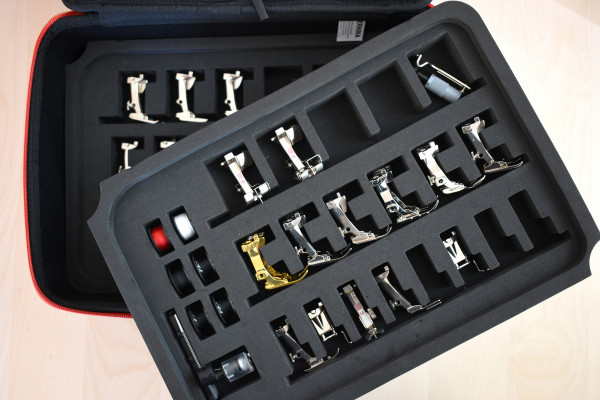 "The second tray can hold 20 more feet including the Buttonhole foot with slide #3A and 6 jumbo bobbins. I use this tray for feet I use most often, and it's easy to grab them when I need them."—Erika Mulvenna for We All Sew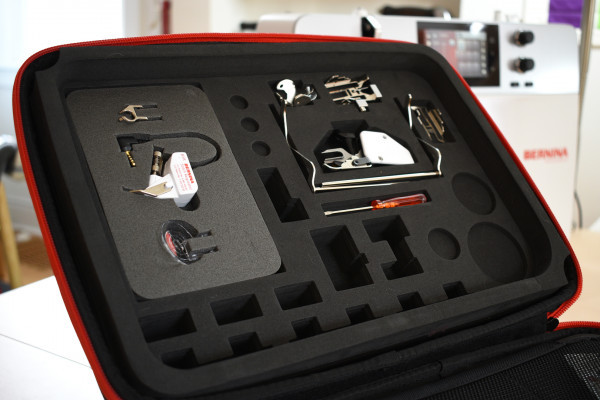 "The lid of the case holds more feet and includes specific receptacles for Walking foot #50 (along with the 3 soles, two guides, guide holder, and screwdriver), and a space to fit the entire foam holder for the BERNINA Stitch Regulator and accessories. Also in the lid are spaces for the Adjustable rulerwork foot #72 and the additional Couching Inserts and Echo quilting clips compatible with the foot. If you think the stuff in the lid might come out, BERNINA has a fix for that."—Erika Mulvenna for We All Sew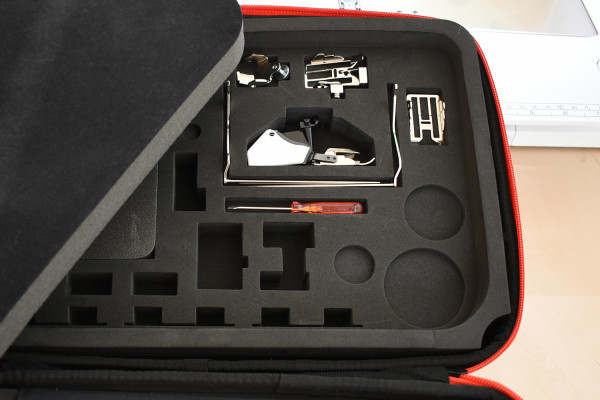 Included with the case is a firm foam cover for the accessories in the lid that fits snugly in the compartment and keeps everything in place.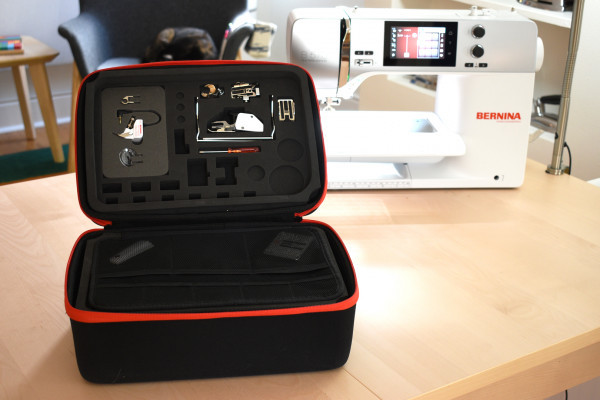 "And in between the lid and main compartment is yet another place to store goodies in the shape of a handy flap full of pouches and zipped compartments. I store the case in my sewing space, easy to reach if I need to pull out or put away a foot."—Erika Mulvenna for We All Sew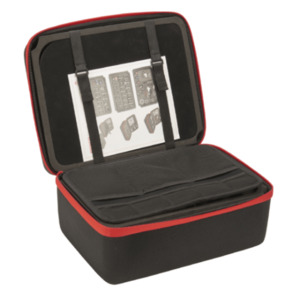 Designed for: 43 presser feet (incl. BERNINA Stitch Regulator (BSR), Three-Sole Walking Foot with Seam Guide #50) 9 Bobbins 2 Bobbin Cases 3 Couching Inserts 3 Echoquilt-Clips 3 Stitch plates
Kathy T, Flemington NJ
I have always received quality goods and quick delivery when I have ordered from you. Thank you!