* Synchrony Bank Sewing & More Fixed Payments 0% No Interest Financing with approved credit!
Click HERE to Apply Online for Synchrony Bank Sewing and More Credit Card Approval to use for Online Checkout or in AllBrands stores
The new Akane 2-needle, 2/3/4 thread differential feed overlock with automatic thread supply and easy threader. The name Akane means "deep red" in Japanese after JUKI's rich heritage, the MO-3000QVP will have you serging like a pro!
Chain Cutter - Chain stitch can be cut without using a pair of scissors and automatic cutting is now possible.
Variety of sewing patterns, to produce exquisite handicrafts

The height of the wide throat area is 2.6," infinitely improving workspace usability

A supplied curved foot to handle the curved parts of the material smoothly

With the 2/3 thread conversion, it's possible to change over the stitch type to 2-thread sewing

The knee lift lever allows you to move the presser foot up and down without using your hands

LED lights illuminate the workspace, don't heat up, and eliminate viewing difficulties





Introducing the Akane MO-3000QVP, JUKI's newest QVP serger! Taking your serging to the next level this machine comes equipped with new features like an automatic thread supply, our JUKI exclusive chain-off thread cutter, a micro-lift of the presser foot, and of course effortless threading with the power of air!


US Warranty 5 Years Mechanical, 2 Years Electrical, 90 Days Adjustments on defects in material or workmanship.
Extended US Warranty: Extended Warranty Available
Non-US Warranty: 30 days parts and labor
Specifications
Wide Throat Area

Bright Workspace

Light Control Function

Magnetic Needle Tray

2/3 Thread Conversion

Storage of Accessories

Inner Curve Sewing

Adjustable Stitch Length & Differential Feed

Adjustable presser foot pressure

Option to deactivate upper knife

Safety feature preventing operation when the presser foot is in the up position or a cover is open

Option to deactivate upper knife

Safety feature preventing operation when the presser foot is in its upper position

Thread trimming blade

Dimensions 13.8"w x 12.2"d x 13.4"h

Weight 25 lbs



Click here to access the Juki warranty registration form
Included Accessories
Standard Presser Foot (also Taping Foot)
Curve Foot for easier turning
Knee Lift Lever
Foot Controller with Foot Switch Function
Waste Collector
Other Images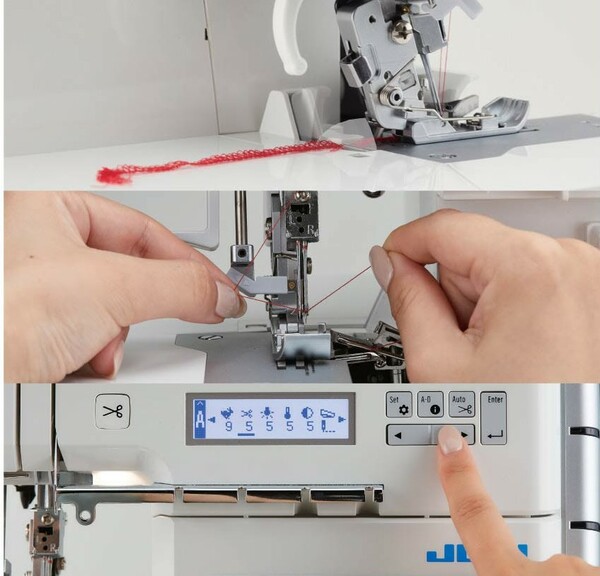 Juki MO-3000QVP Akane, No Tension Knobs, Micro Lift Foot, Automatic Thread Chain Trimmer, Knee Lift Lever, LCD Screen, Safety Sensors, Weighs 25 lbs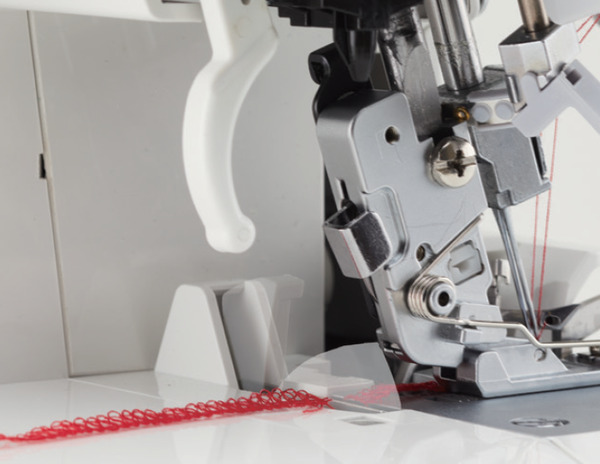 CHAIN-OFF THREAD CUTTER
A JUKI Original, the chain-off thread can be cut manually by pressing the scissors button or using the foot switch. Automatic cutting is also possible and you can set the chain-off thread length.

MICRO-LIFTER
With the micro-lifter, you can sew with the presser foot lifted up to 2.5mm. This extra spacing makes handling those bulky projects easier. Trying to finish the edge of a heavy winter coat or set elastic into a fleece waist band? Micro-lift is just what you need.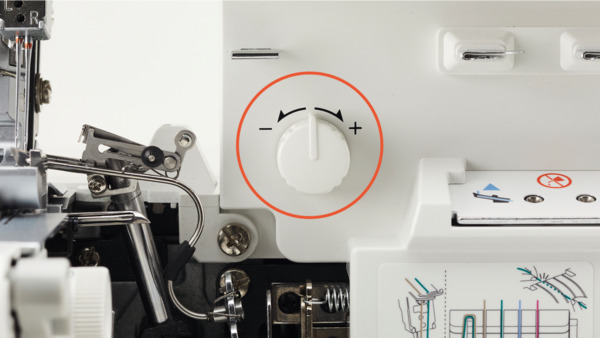 THREAD DELIVERY ADJUSTMENT KNOB
The MO-3000QVP sews various stitches from 4 thread overcasting, 3 thread narrow and rolled hem by turning the stitch selector knob. With the automatic thread supply system, adjusting "tension" is a thing of the past. The joy and efficiency of serging is greatly increased.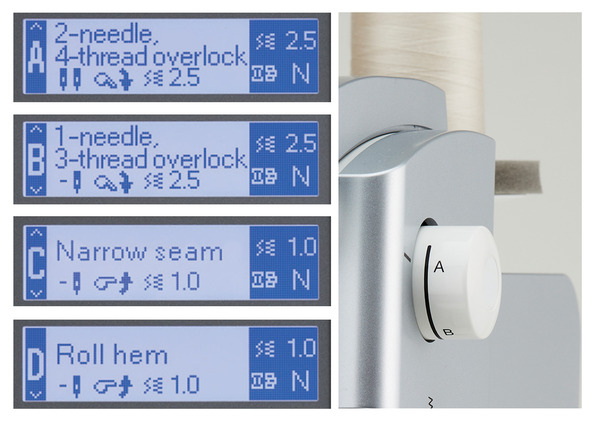 LCD SCREEN
The LCD screen shows the selected stitch pattern as selected by the stitch selection knob.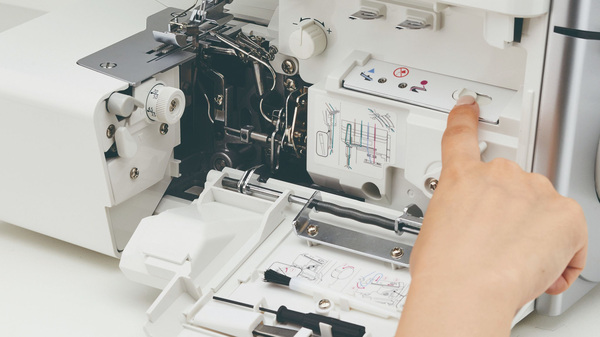 EASY LOOPER THREADING
Easily thread the machine from the threading to the looper hole with the power of a strong whoosh of air sent from the electric motor allowing for fast threading of the upper and lower loopers.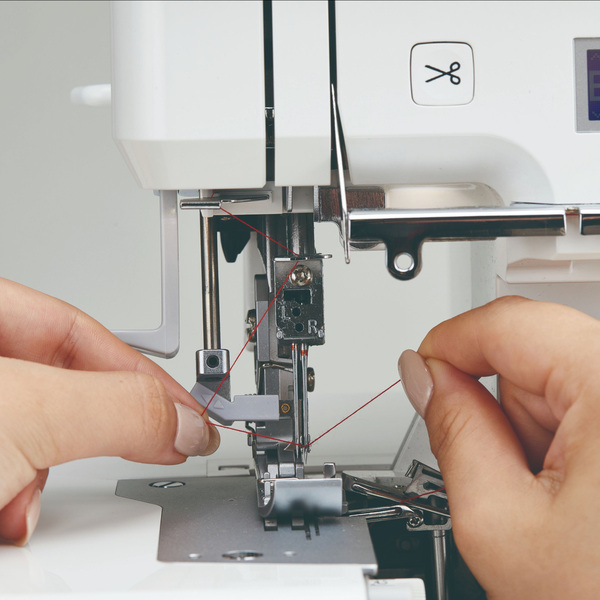 AUTOMATIC NEEDLE THREADER
Quickly thread the right and left needles with the automatic needle threader.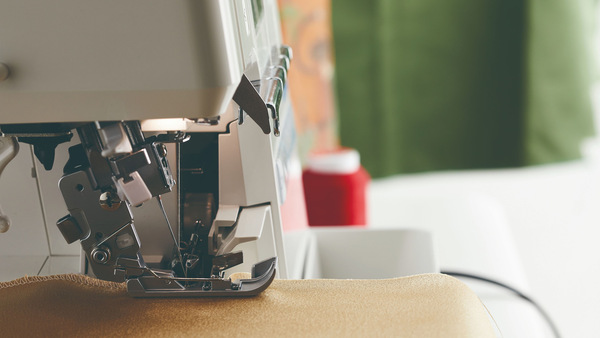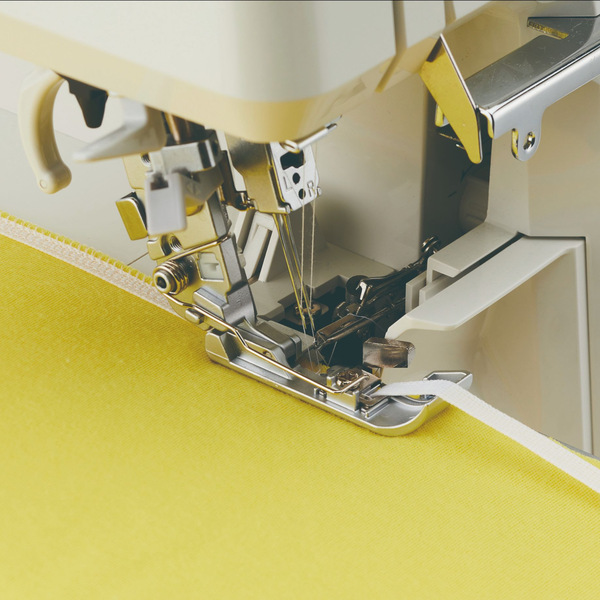 Included Accessories: Standard Presser Foot (Taping Foot), Curve Foot, Knee Lift Lever, Foot Controller with Foot Switch, Function, Waste Collector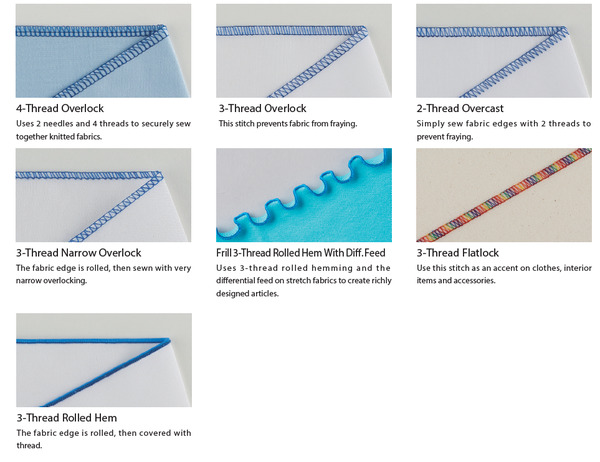 Stitch Patterns
Re: I'm trying to determine the pros/cons to dial tension vs. lay in tension. Can you advise the pros/cons to each, and any other differences between the two machines? Cindy

Cindy, Lay in tension dials on Juki MO734DE, M0735DE, and New MO1000/MO2000 Jet Air Sergers are easier to see and thread and easier to pull each thread through since the tension discs release when the presser foot lever is lifted. Juki MO654DE traditional round tension knobs do not have tension disc release when presser foot is lifted, so it is harder the get the thread all the way down between the tension discs and harder to pull each thread through when re-threading or tying off new thread spools to pull through the thread paths. No other major feature differences, other than in extended warranties and the automatic needle threaders on Juki MO735DE and on new Juki MO1000/MO2000 Jet Air Looper Threading serger. John Douthat, AllBrands Owner & Tech
Bundle & Save
Get additional savings when you purchase any of these items along with this product.