Also Includes

INCLUDED: Grace Promo: Free Luminess 5 ft Light Bar with Quilters Evolution Hoop and Continuum II or 10 ft Light Bar with Quilters Evolution Elite
* Synchrony Bank Sewing & More Fixed Payments 0% No Interest Financing with approved credit!
Click HERE to Apply Online for Synchrony Bank Sewing and More Credit Card Approval to use for Online Checkout or in AllBrands stores
With the Q'nique 21X Elite, your quilting will be easier and better than ever! This longarm machine will amaze you with its impressive reach, intuitive time-saving technology, and professional features.
The Grace Q'nique 21X Elite includes the features you love in the Q'nique 21Pro like 21" throat space, 2,600 Stiches per Minute, Thread Timmer, Built in bobbin Winder, and Bobbin Estimator. It also has a new full color 7 inch touch screen with new customer interface and adjustable handles with new button controls.
Quilters spoke, and we listened! This machine has been designed with the utmost attention to detail to solve quilters' most frustrating problems and make quilting as enjoyable as it possibly can be.
Features:
7" touchscreen display with intuitive screens and controls

Large 21" throat space

Adjustable ergonomic handles with quick-access buttons

Speed range of 130-2600 stitches-per-minute

Built-in stitch regulation and stitch counters

Four different stitching modes: cruise, precise, baste, and manual

Built-in bobbin winder with fill-level sensors and easy-to-use controls

Adjustable hopping foot orientation

Included magnifying glass attachment for optimal needle view

Dual thread mast for quilting and winding bobbins at the same time

Dual wheels for added stability

Edge warning and overspeed warning systems with both warning lights and sounds

Digital measuring tool

On-screen incremental needle control

Needle light with dimmer to control light intensity

Needle magnet to guide needle orientation

Included sample thread kit

On-screen bobbin estimator to tell if bobbin levels are low

On-screen help guides and instructions


US Warranty 2 years parts, 90 days labor
Extended US Warranty: Extended Warranty Available
Non-US Warranty: 30 days parts and labor
Specifications
New Screen orientation with customer interface with options:
Select Quilting Mode

Edge Indicator

Bobbin Level Estimate

Start/Pause Stitching

Single Stitch

Menu Selection

Jog Needle

Needle Up/Down

Toolbox

With the Q'nique 21X Elite Toolbox you can:

Measure- Take measurements.

Calculator

Bobbin Estimator- Warns you of low bobbin levels

Edge Warning- Set quilt boundaries

Project- Track stitch count for project

The Q'nique 21X Elite Settings Menu:

Screen Brightness

Needle Area Brightness- Controls brightness of the light in needle area (white light only).

Needle Button- Set the handlebar button to single stitch or needle up/down (moves the needle to highest or lowest position).

Needle Stop- Choose to have the needle stop in the [Up] or [Down] position when stitching is inactive

Overspeed Sound- Press to mute the overspeed alarm

Overspeed Light- Press to disable the red overspeed warning light

Edge Warning Sound- Press to mute the edge warning alarm

Edge Warning Light- Press to disable the red light that shines over the needle plate when the machine approaches or passes over the quilt edge

Click Sound- Press to disable the click sound when you press buttons

Stitch Length Units- Set the units to inches or metric

Factory Reset- Press to return your display to the original factory settings

System info- Displays the display and machine firmware versions

Lights, Alarms & Icons

Red Light (Needle Area)
The needle area may light up in red if:

The machine is moving too quickly across the quilt for stitch regulation. This light can be disabled in the Settings menu (Overspeed Light).

The machine is approaching or has passed over the quilt boundaries. This can be disabled in the Settings menu (Edge Warning Light).

Alarm (Constant Tone)
Machine is being moved too quickly for regulated stitching. Alarm can be disabled in the Settings menu (Overspeed Sound).

Alarm (Beeping)
Machine approaching or has passed over the boundaries of the quilt. Boundaries must first be established in the Edge Warning tool. The alarm can be disabled in the Settings menu (Edge Warning Sound).

Screen Turned Off
The screen is set to turn off after five minutes of inactivity. Press any handlebar button to resume quilting. The screen sleep feature can be disabled in the Settings menu (Sleep).
Included Accessories
TrueSharp 2 Power Sharpener
Bobbins
MR Needles
Mini Quilt Clips 1.5"
Finesse - variegated Colors - 4 pack
Horizontal Spool Holder
Other Images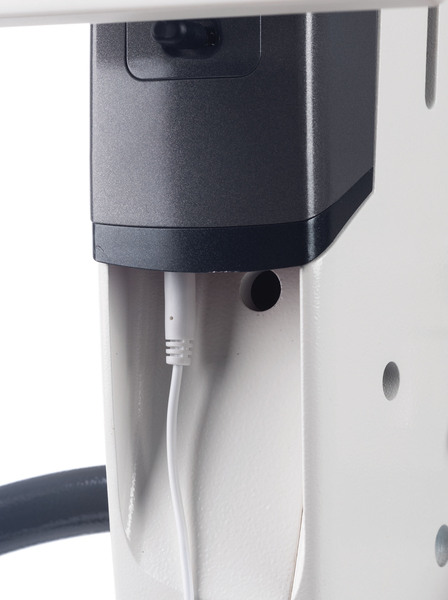 Accessory ports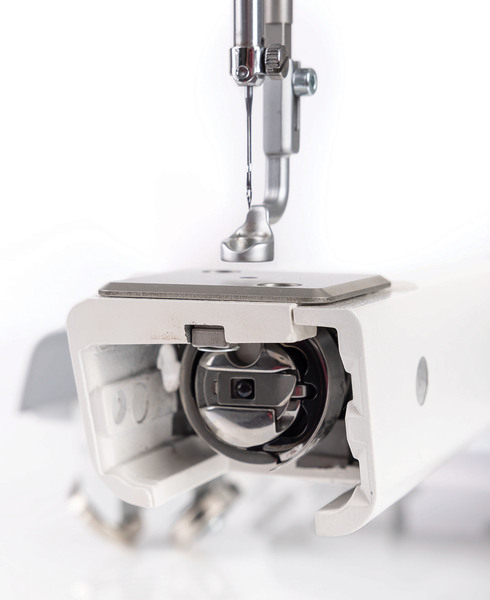 Bobbin area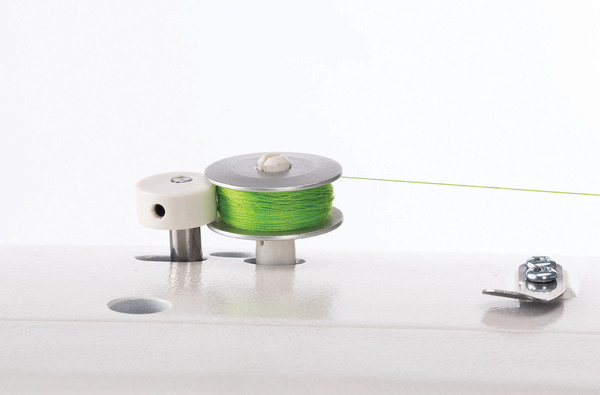 Bobbin winder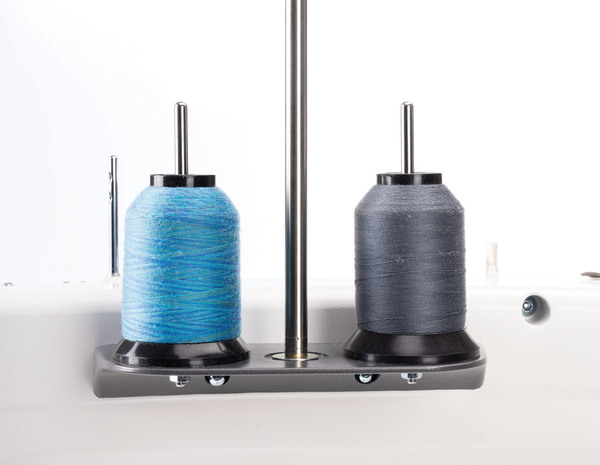 Dual thread cone tower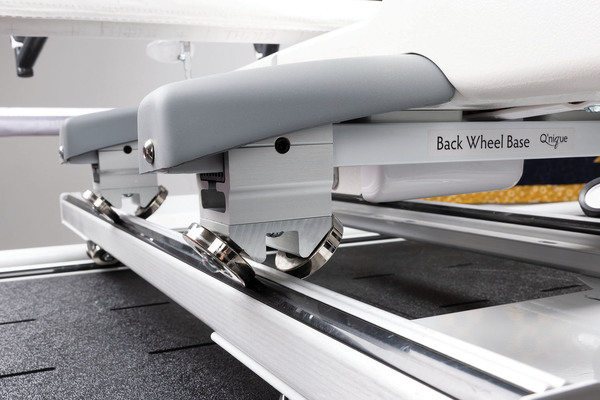 Dual wheel tracks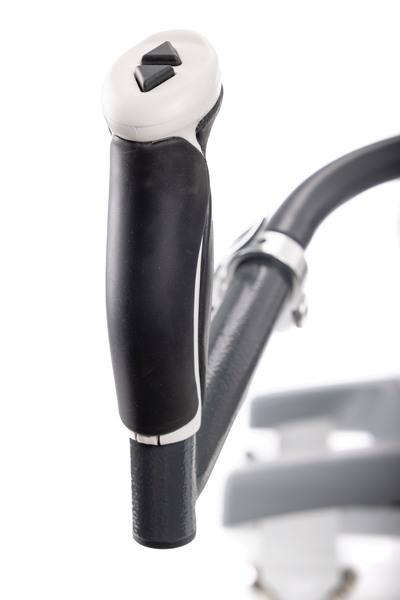 Handle left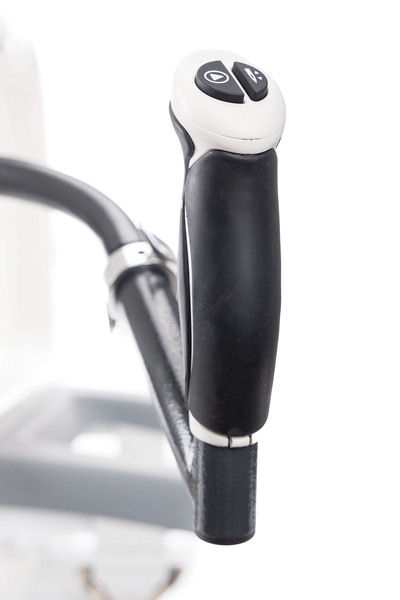 Handle right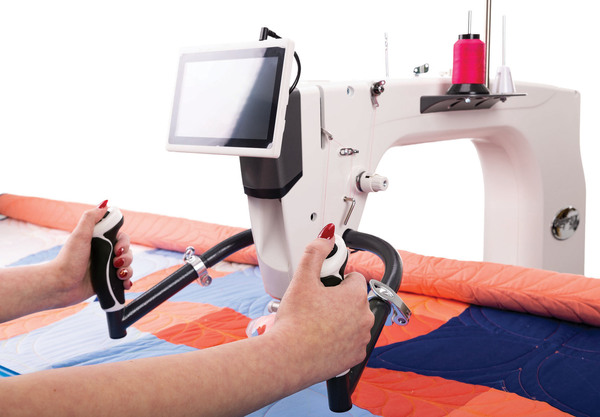 Handle in use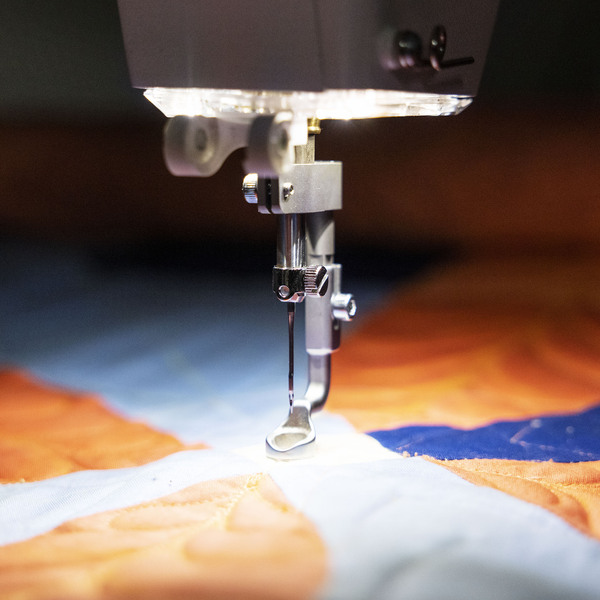 Needle lights on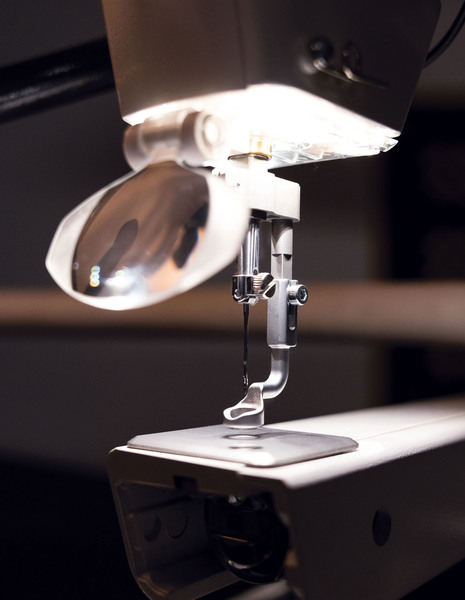 Needle lights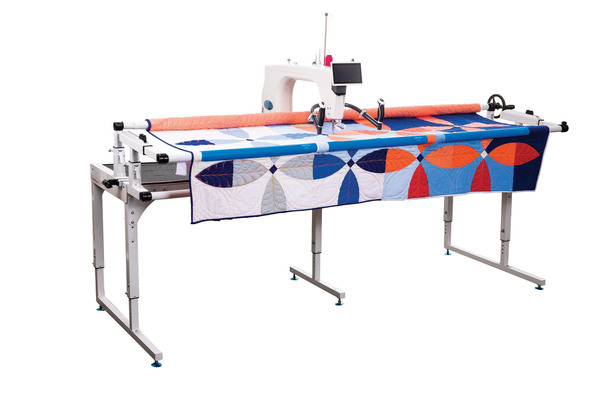 With Full frame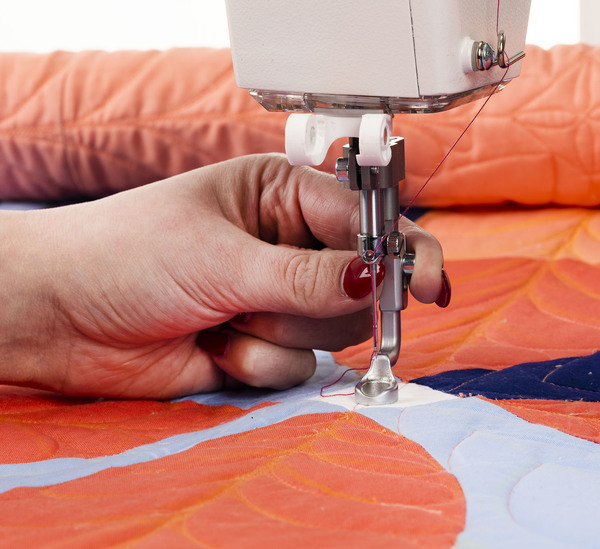 Rotate foot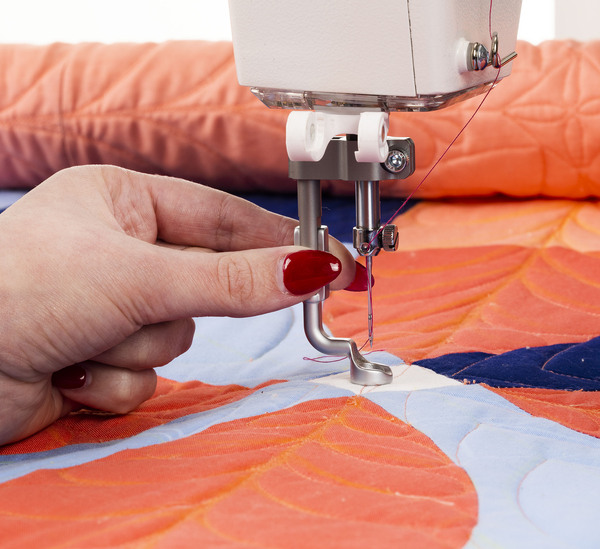 Rotate foot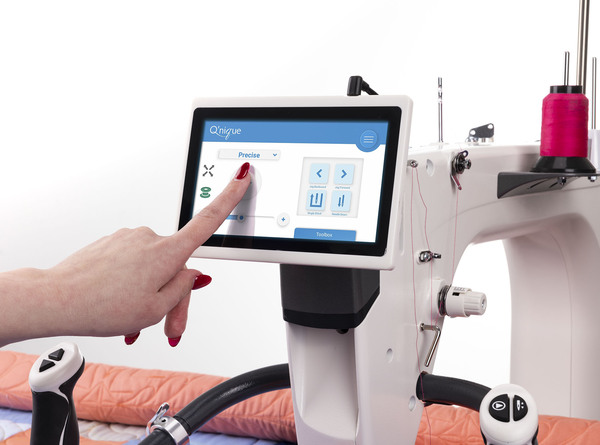 Touch screen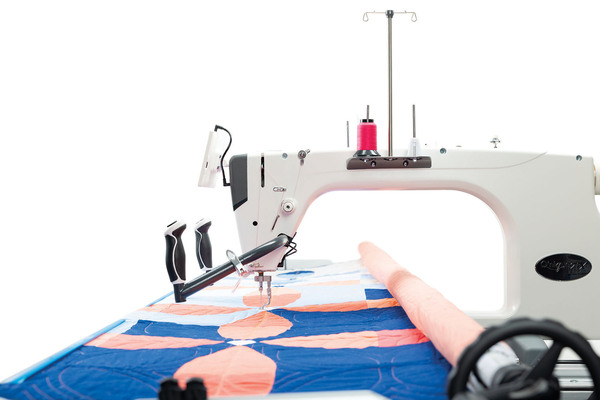 Throat space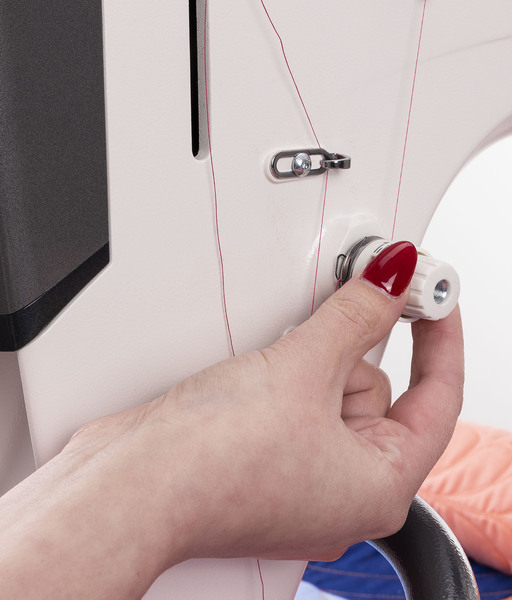 Tension knob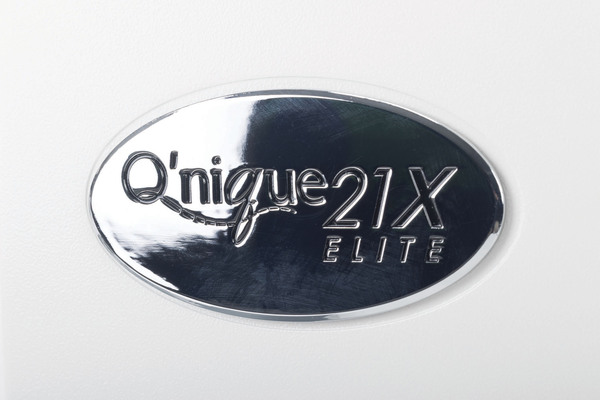 Logo badge
Bundle & Save
Get additional savings when you purchase any of these items along with this product.