Top Stitch Needles For Home Machines (HAx130N)
This special needle has a very long, almost double length, eye. It is made for Top-Stitching or Decorative stitching and will accept heavy or multiple threads. It can also be used for embroidery with heavy, metallic threads. It is available in chrome or PD/titanium finish.
Has an extra long eye. For use with topstitch, heavy, multiple or poor quality threads. Achieve perfectly straight stitch lines and even stitches when using a straight stitch plate. Available in sizes 70, 80, 90, 100, 110. 100 needles per box.
The SCHMETZ Topstitch needle has a nickel finishing. This needle has an enlarged eye and a special groove resulting in very straight stitches. It excels in stitching through layered fabrics and quilts. It is especially useful when working with heavy, multiple and even poor quality threads. The SCHMETZ Topstitch needle is available in bulk - 100 needles - in sizes 70, 80, 90, 100 & 110, all sizes are currently available for shipment from our warehouse.
Has an extra large eye and large grooves to accommodate top stitch thread. This needle helps stitch perfectly straight lines and even stitches. It comes in sizes 12/80, 14/90, and 16/100. It is helpful to use a straight stitch plate if you are expecting perfectly straight top stitching results. Choose the size based on the type and size of thread being used.
New announcement from Schmetz below! You will know they are chrome needles because it will be listed on the package. Coming late 2021!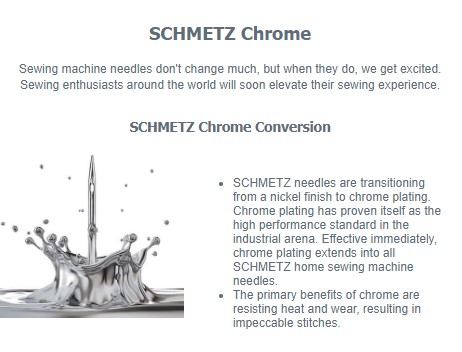 Other Images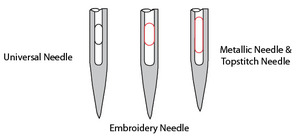 The most popular needle, the Universal, has an eye that is 40% the width of the blade. Really! There are three other needles with larger eyes, the Embroidery and even more pronounced is the elongated eye of the Metallic and Topstitch needles. Now what does a larger eye mean? There is less friction on the thread as it passes through the eye. Ever sew with a thread that breaks or tends to shred? Guess what, use a needle with a larger eye. If you have old thread or maybe a poor quality thread, use a needle with a larger eye. The thread and needle work hard and fast. Help them out when you can with a larger eye.
Connie H, Albuquerque NM
As usual, great service!!!!

Leticia R, Kingwood TX
I thought I was ordering a small bulk titanium blue box of 100 needles. Needles that I have purchased in the past, but I received 5 needle packets of 20. But I can do this because I needed the needles presently.

Margo E, Key West FL
Great deal, price and fast service.

Harriet D, Johnstown NY
I was overwhelmed with the ease and speed of my needles. You have out done your self I am very happy with your service.

Shelly, Texas
Allbrands rocks!

Diane, Virginia
Best, cheapest, fastest way to buy sewing machine needles and threads that I have found!

Vickie, South Carolina
I like being able to get needles by the 100 box. good price too. thanks, Vicki

Shelly, Texas
Your company always provides the best products for the lowest prices. I can depend on All Brands for quick shipment, great packing and a quality product. shelly