This needle features a special taper to the slightly rounded point. Made especially for piecing and machine quilting. The special tapered design allows easier fabric penetration and helps eliminate skipped stitches. 100 needles per box.
Bulk 100 Box of Needles

Same as 130H-Q A100

Designed especially for quilting. These needles have a thin, tapered deep point, which is good for sewing multiple layers.



New announcement from Schmetz below! You will know they are chrome needles because it will be listed on the package. Coming late 2021!



Other Images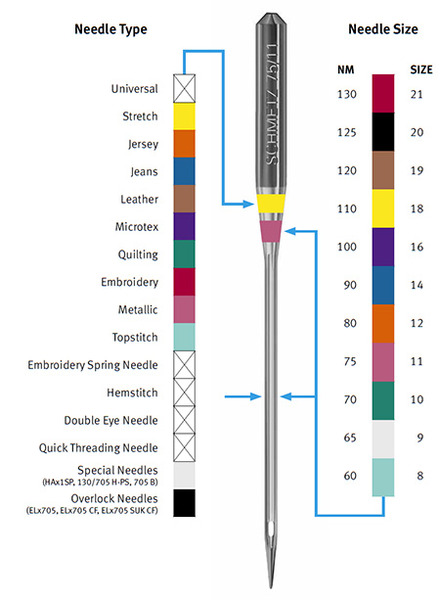 Schmetz Color Code Chart. SCHMETZ needles are easy to identify! Most needles have two bands of color - the top band to identify needle type and the lower band to identify size. The Universal needle has just one band of color for size. Yahoo!

Also available in retail stores in pack of 5, size 11 and 14.
Nancy, New York
I was looking for a site where you could buy needles in bulk & I found it! Thank you!!! I am happy with my order.

Mina, Michigan
The service was great.

Avon, Georgia
i will be ordering from your company again in the near future. Thanks.

Diane, Virginia
Best, cheapest, fastest way to buy sewing machine needles and threads that I have found!

Mary Ann, Ohio
Always a pleasure doing business with your company.