INCLUDED: Brother & BLSO SAVR6000D1 Quattro Software UPGRADE Already Installed, Scan Fabric In Hoop, Display On Screen, Align & View, Resize 60-200%, Cursive Font, 1.5x ThumbNails, BobbinWorks*
In honor of Brother's 100 year anniversary, the Quattro™ 6000D brings you 100 brilliant, unprecedented features.
Sewing and Embroidery Features
1. Full 10-inch space to the right of the needle, our largest sewing and embroidery area
2. 5-inch height from sewing bed to top of machine arm
3. 23.75-inch long sewing bed (with embroidery arm attached)
4. Full-spectrum LEDs which mimic natural daylight
5. Light intensity equivalent in power to 56 standard LED lights
6. Almost 10-inches of full-spectrum surround™ lighting around the needle
7. Adjustable LED "Runway" lighting in five settings
8. light diffusing technology
9. lens focusing technology
10. InnovEye™ Needle Camera Technology for precise needle placement
11. On-screen InnovEye™ adjustment using sensor positioning sticker
12. Print and Stitch Technology for 3D art
13. Built-in Up-close™ Viewer
14. Zoom function using Up-close™ Viewer
15. Angle view capability for down-the-needle viewing
16. Enhanced edge sewing using InnovEye™ Technology
17. Lighting quick pivoting functionality
18. Sew without thread for paper punching
19. jumbo 12-inch x 8-inch embroidery hoop
20. 8-inch x 8-inch square quilting hoop
21. Built in large designs for the jumbo 12-inch x 8-inch hoop
22. 601 built-in embroidery designs
23. Beginning library of 8 built-in background designs for Print and Stitch Technology
24. built-in Kanji designs
25. built-in Greek Alphabet
26. 40 built-in Vintage designs
27. built-in Swiss designs based on Swiss lace samples circa 1900s-1950s
28. 10 built-in Japanese designs
29. 20 built-in square quilting designs
30. 160 designs featuring Disney/Pixar characters
31. 30 built-in initial designs
32. Embroidery background color adjusting feature
33. Monochrome embroidery for single color embellishment
34. Enhanced threading system
35. Superior feed dog system
36. Automatic feed dog switching
37. Improved Thread Take- up lever
38. Adjustable bobbin winding speed
39. Improved tension guide from spool to bobbin
40. adjustable knee lifter with three positions
41. Needle plate detector for safe operation
42. Presser Foot Lever in convenient location
43. ruler design with zero mark at the needle to help center designs
44. Pointing needle mode
45. Ergonomic large start/stop button
46. embroidery edit rotation arrows
47. Design duplication mode with embroidery editing
48. Sewing stitches available in embroidery mode
49. embroidery unit connector door
50. Readable PHC files .
51. Built-in Appliqué Creator feature
52. Improved hoop alignment
53. Built-in embroidery basting function
54. 20 utility stitches
55. 12 decorative stitches, including the numeral (#) sign
56. built-in Heirloom stitches
57. Embroidery Design selection scroll bar for easier navigation
58. 28 border frame patterns
59. 15 built-in embroidery alphabets with full complement of symbols
60. 2 small fonts
61. 15 accessory feet included
62. foot for edge sewing
LCD Display Features
63. 4.5-inch x 7-inch wide-angle HD LCD display
64. HD LCD display by Sharp Corporation
65. 160-degree horizontal viewing capability
66. 140-degree vertical viewing capability
67. 260,000 possible colors with no color shifting
68. Liquid Clear Digitizer
69. TFT display
70. Adjustable display color for easy editing
71. Built-in screensavers with viewing adjustment options
72. Personalized screensaver functionality
73. Realistic preview of selected stitches
74. Faster on-screen design rendering
75. Increased file extension viewing
76. 11 on-screen instructional videos
Software Features
77. 3 USB ports
78. high-speed 2.0 port for design transfer
79. A third port for computer connectivity and future upgrades
80. Customizable USB mouse pointer functions
81. Optional external USB embroidery card reader
82. easy-to-navigate home screen
83. easy-to-use screen layout
84. Adjustable sound in 5 levels
85. 9 sounds for function differentiation
Accessory Features
86. Includes quilting feet
87. 2-spool thread stand included
88. bobbin clips included
89. Microfiber accessory cloth
90. high-quality accessory box for storage within arm of machine
91. 3 removable accessory trays
92. Exclusive USB mouse
93. Quintessential Idea Book
94. embroidered dust cover (no longer included)
95. Custom Fashion Rolling Luggage (no longer included)
96. Custom Fashion Luggage for Embroidery Arm and Accessories (no longer included)
Cosmetic Features
97. dampened top cover
98. Color coordinated top and needle up/down knob
99. Non-slip grip handle
100. sturdier hoop design with better gripping surface
Space: Our Largest Work Area Yet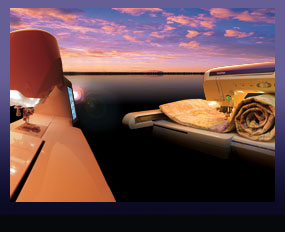 Embroider with perfection, sew with unlimited creativity, quilt with ease and craft with brilliance. The large work area means greater room…room to design, room to create and room to be free. Free yourself from the stress of completing big projects such as quilts, jackets and home décor projects.
Achieve the unimaginable with almost 50 square inches of workspace, nearly 36% larger than its predecessor. A spacious ten-inch x five-inch work area accommodates those larger projects you only dreamed you could create. Bulky sewing projects, large-format paper crafts and quilts up to nine inches in diameter are no match for the Quattro™ 6000D. Make the impossible…possible.
We give you plenty of room to develop and perfect your skills. The spacious sewing area transforms into a canvas for impeccable design when the embroidery arm is attached. Go beyond your usual embroidery or quilting and experience its great sewing features, too. With the Quattro™ 6000D, you can sew with the embroidery arm on for a time-saving convenience.
Embroider breathtaking designs with the jumbo 12-inch x 8-inch embroidery hoop. Use the built-in embroidery designs to complement your treasured pieces for the satisfaction of personal customization. More space means less re-hooping…less re-hooping means more time and less effort!
HD LCD Display by Sharp Corporation: Crisp and Clear No Matter How You Look at it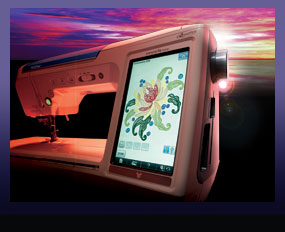 State-of-the-art technology from Sharp Corporation brings optimal clarity and color to the wide-angle HD LCD display. A great visual field, nearly 32 square inches, delivers razor-sharp graphics, visibility from any angle and less interference from overhead glare.
The 4.5-inch x 7-inch touch screen is nearly 18 percent larger than its predecessor, encompassing innovative technology from the leader in LCD displays. The wide-angle HD LCD display by Sharp Corporation offers vivid, crystal-clear lucidity rendering the brightest images imaginable with virtually no color shifting from side to side.
View brilliant, high-resolution design renderings and stitch previews. Virtually instantaneous processing—three times faster than previous models—means stitch parameter adjustments and design edits are immediately rendered. No more waiting to preview your designs…the Quattro™ 6000D knows time is invaluable.
With large wide-angle viewing, the Quattro™ 6000D is easy on the eyes from any angle. Super bright and crystal clear on-screen icons tout an improved appearance—intuitive and ergonomic. Boasting a three-dimensional look and larger space, the functions you use most are right at your fingertips. A simple touch of the stylus or a finger brings you closer to realizing your dreams. Most importantly, the Quattro™ 6000D is so easy to learn and use, similar to our other great products.
11 on-screen instructional videos guide you as you become a Quattro™ 6000D connoisseur. Enjoy the screen's expansive size as you learn step-by-step how to master your dream machine.
Added personalization: Choose from 5 built-in screen savers, including Disney designs, to display when the machine is not in use. Or upload your favorite photographs and images creating your own custom slideshow. Whatever you choose, no matter the time…the Quattro™ 6000D will display your personal touch.
Runway™ Lighting: Surround Your Project with the Brightest in LED Technology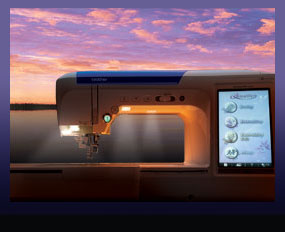 Covering almost 10-inches of full-spectrum lighting around the needle, Brother's exclusive Runway™ Lighting embodies museum-quality illumination, projecting clear, bright light onto your project. Colors are more vivid and brighter. The Quattro™ 6000D incorporates our latest light diffusing system as well as lens focusing technology to create a wider, more uniform area of coverage. Enlighten your touch with the best lighting in the industry.
The runway is a place to shine, and your projects will radiate with Runway™ Lighting. Extra lighting is unnecessary as the Quattro™ 6000D projects a light intensity equivalent in power to 56 standard LED lights. Customize the lighting output by adjusting the angle under the needle to eliminate any shadows. Regulate the brightness between five settings, including an off mode, to find your ideal level.
Innoveye™ Technology & Up-close™ Viewer: Precise Positioning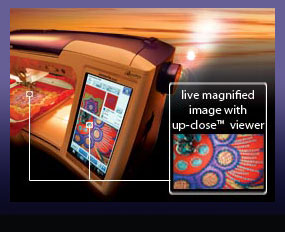 Brother's exclusive InnovEye™ Intelligent Eye Technology and Up-close™ Viewer give a bird's eye view of the needle area. This industry first is like having a built-in camera above the needle plate. With instant magnification featured right on the LCD display, sewing, embroidery, quilting and crafting have never been more exact. Imagine how easy it will be to see your work up close and personal. By using InnovEye™, the needle-drop guessing game is over…elaborate designs and intricate decorative stitching are incredibly accurate.
InnovEye™ Technology means precise needle placement for those hard-to-see areas - especially when attaching buttons and making buttonholes. Estimating stitch placement is no longer a hassle, leaving more time to dream the unthinkable and create the unbelievable.
Edge sewing is so simple. InnovEye™ follows the edge and—guided by a pre-set seam allowance—keeps stitches smoothly hugging the edge whether they are straight or curved. Sew a long, thin piece of material, like a ribbon, with ease. Even free arm sewing is made simple using InnovEye™ Technology to sew point to point.
Utilizing a unique sensor positioning sticker placed on your fabric, the InnovEye™ Technology automatically positions the needle and design for perfect embroidery placement.
No more starting over when you slightly mishoop your fabric! Let the InnovEye™ detect the sensor positioning sticker and make corrections for you! Additionally, use placement of the sensor positioning sticker to create beautiful fashions, including multiple embroidery designs, quickly and easily.
Print and Stitch Technology: Give Your Crafts a 3D Design
Brother's exclusive Print and Stitch Technology combines printed images with embroidery designs to create your own 3D craft art. Complete with eight built-in backgrounds, including three Disney images, the Print and Stitch function is ideal for accenting apparel and home décor pieces. Frame your creations for a unique decoration. Or, even create your own wearable embroidery art.
Every Accessory You Need: Standard!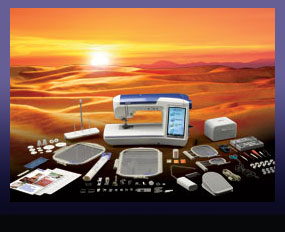 Explore the machine's innovation using the included accessories. Redefining the industry meant redefining every feature and function, especially the tools designed to save you time and effort.
Four Hoops, Including the Jumbo Hoop
Embroider monograms and other small designs using the 1-inch x 2.5-inch and 4-inch x 4-inch hoops. The 8-inch x 8-inch square hoop is ideal for quilters. The 12-inch x 8-inch jumbo hoop accommodates larger designs and prevents the need for re-hooping.
15 Different Sewing and Embroidery Feet
Achieve perfection with a wide array of feet including a vertical stitch alignment foot for effortless edge sewing as well as feet for buttonhole sewing, monogramming, free-motion quilting and echo quilting.
Two-Spool Thread Stand
Featuring improved stability, the two-spool thread stand is a great tool for multiple or specialty threads.
Adjustable Presser Foot Knee-Lifter
Adjust the lever in three different positions for your ideal sewing position.
Accessory Case
Designed to fit within the arm of the Quattro™ 6000D, the accessory case allows you to keep all of your tools neatly organized.
US Warranty 90 Days labor on defects in materials and workmanship.
Non-US Warranty: 30 days parts and labor
Bundle & Save
Get additional savings when you purchase any of these items along with this product.