*Financing Available*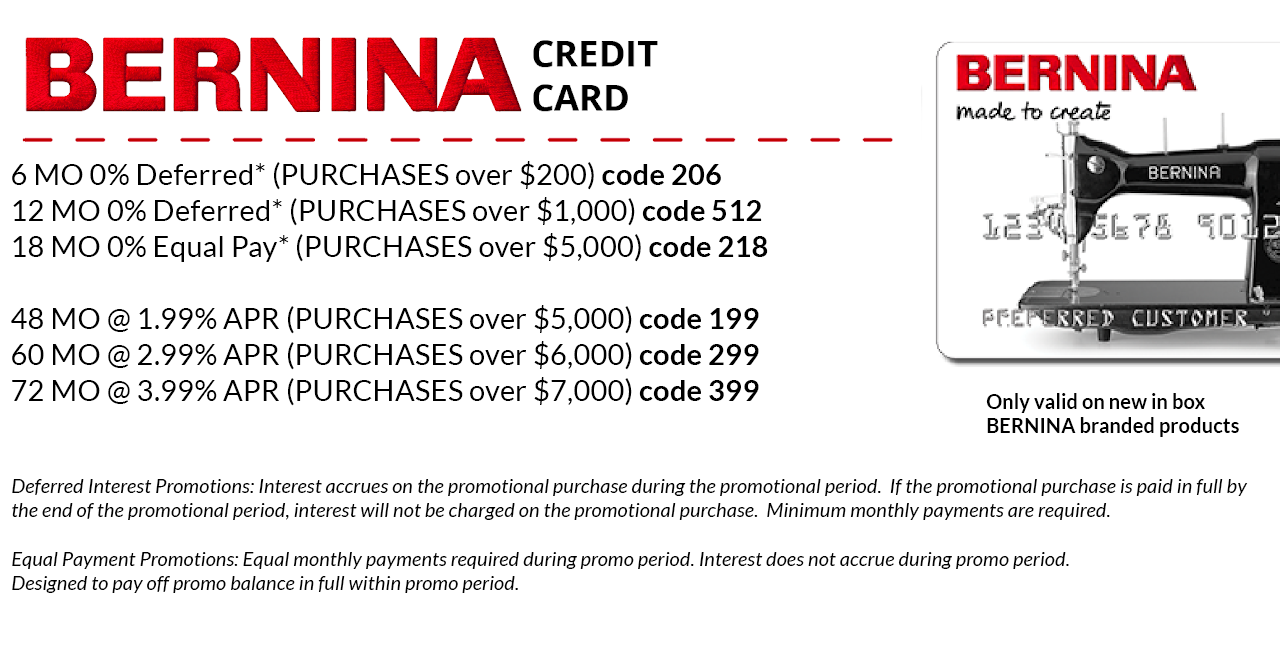 Click HERE to Apply Online.
Click here to download Bernina's app. View products, promotions, and new Accessory/Foot Organizer!
*70% More Thread, Highly sophisticated & brilliantly simple Our newly-designed 4 Series offers the innovative features and functions.
Features and Functions:
BERNINA Hook with 9mm stitch width

Front-load Jumbo Bobbin - holds 70% more thread and a regular bobbin

Automatic thread cutter

1,249 stitch patterns

BERNINA Stitch Regulator compatible

Simple, modern operation

7" between the needle and the throat of the machine

Modern, Color Touch Screen for easy navigation

Maximum speed of 900 stitches per minute

BERNINA Hook for quiet and precise sewing, quilting and embroidering

1249 Total Stitches:
27 Practical
9 Buttonholes
2 Eyelets
1 Sew-on Button Program
223 Decorative
27 Quilting
5 Alphabets
2 Darning Programs

Machine Features:
7" to the Right of the Needle
4.3" Centrally Located Color Cap-touch Screen
9 mm Maximum Stitch Width
6 mm Maximum Stitch Length
11 Needle Positions
8 LED Lights
Automatic Thread Cutter
Weight: 20.9 lbs.
Dimensions (L/W/H):
16.7" x 7.9" x 12.9"
Workspace Height: 4.3"
1 USB Port
Import/Export Stitches via USB

Bernina 480 Webpage
US Warranty 25 years head, 5 years electronics, 1 years labor
Extended US Warranty: Extended Warranty Available
Non-US Warranty: 30 days parts and labor
Specifications
Bernina 480 Instruction book pdg
Designer Yvonne Reichmutz aka "YVY" talks about the BERNINA 480 (short version)
Designer Yvonne Reichmutz aka "YVY" talks about the BERNINA 480 (2.5 minute version)
">"The B 480 is an essential part of my studio." Yvonne Reichmuth — "YVY" Swiss Fashion Designer
Touch screen and functions of the B 435, B 475 QE, B 480 and B 485
Watch over 75 video tutorials on this machine from sewingmastery.com below:
Tip: Inserting the Bernina Jumbo Bobbin Hook: Here is a super easy way to FLIP the hook back into the machine. by Sara at SewingMastery.com
As a teacher, I have been searching for an easy way to help students insert the new magnetic hook after they have finished oiling their Bernina's with the new Jumbo Bobbin hook. Today, I figured out the perfect solution. Sara
See Sara's Solution On Video HERE
Technically Speaking: BERNINA 535, 480, 475 Top Tension Not Releasing Recently we were made aware of an intermittent issue with top tensions not releasing after a thread cut, thus causing tension issues and bird nesting. When an operator selects the auto thread cutter and does not wait until the cutting process is complete, lifts the presser foot by hand or by FHS, there is a sporadic chance the top tension is not releasing. We have also seen the hour glass icon spinning. With machines that have an automatic presser foot lifter the timing between cutter and lifter action is governed by the FW, therefore we do not see such issues. For right now we can provide this solution. If such issues appear, please let the consumer know to slow down and let the machine cut the thread first before the presser foot is lifted. Lowering and then raising the presser foot bar should release the top tension disks. This may take 2-3 times to release. If the hourglass appears it maybe required to reboot the machine.
This promotional price is set to expire at the end of the month
Included Accessories
B 480, 5 Presser Feet:
 Reverse Pattern Foot #1C
 Overlock Foot #2A
 Buttonhole Foot #3A
 Zipper Foot #4
 Blindstitch Foot #5
Additional Accessories:
 Instruction Manual
 Power Cord
 BERNINA Foot Control
 Free Hand System
 Slide-on Table (no guide)
 Soft Cover
 Accessory Wardrobe
(magnetic and attachable)
 1 Pkg. Asst. Needles
 Height Compensation Tool
 Small Screwdriver
 Oiler
 5 Bobbins (total)
 Seam Ripper
 Lint Brush
 1 Foam Pad
 3 Spool Caps
Optional Accessories: See Recommended Accessories
BERNINA Rotary PunchWork Tool

*BSR Compatible

Seam Guide for Slide-on Table

All BERNINA C Feet

Suitcase System (L)
Other Images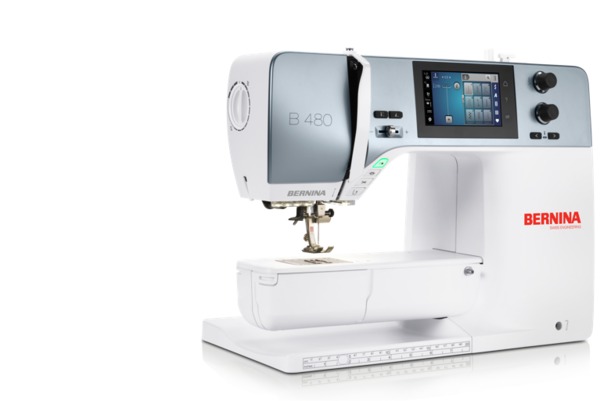 Bernina B480 Sewing Machine, Jumbo Bobbin, 9mm Stitch Width, BSR Compatible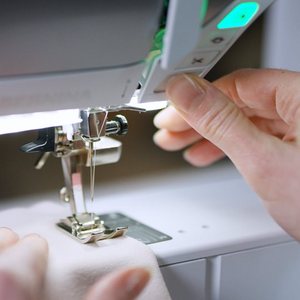 Automatic Thread Cutting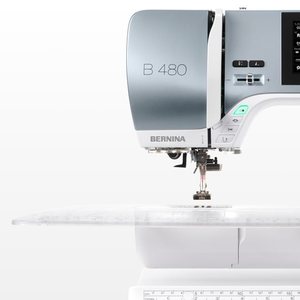 7" from needle to neck for quilting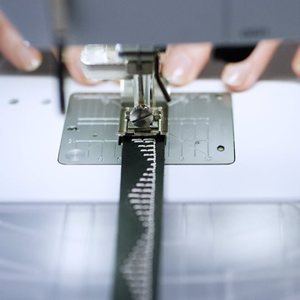 Adjustable Presser foot Pressure for different weights of fabric.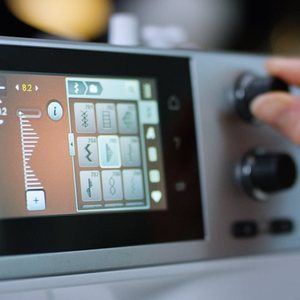 Easy to navigate color touch screen.
Hands Free knee lifter for raising and lowering presser foot and feed dogs.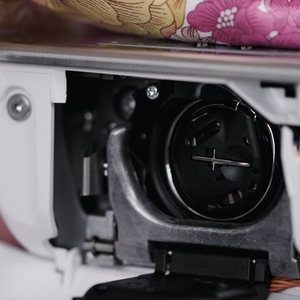 9mm stitch width. Jumbo bobbin holds 70% more tread.

LEARN ALL ABOUT THE NEW BERNINA 480!

Bernina Financing Available