*Financing Available*
*Up to 60 Months Bernina Credit Card Fixed Payment No Interest Financing with approved credit! Click HERE to Apply Online.
Jumbo Bobbin with 70% more thread

Adjustable presser foot pressure

Convenient Automatic Thread Cutter

Patchwork foot #37 included

BERNINA STITCH REGULATOR (BSR)
The BSR regulates perfect, equal-length straight and zigzag stitches at variable sewing speeds during free-motion quilting. BSR is optional for models B 475 QE and B 480 and is not available on the B 435.

BERNINA HOOK INSIDE
The BERNINA Hook changes everything. It's fast while also being quiet. It's efficient while housing a Jumbo bobbin. Keep in mind, this is no ordinary bobbin. It holds up to 70% more thread than standard bobbins and is front-loading for convenient, fast changes. That means fewer interruptions. Plus, with speeds up to 900 stitches per minute, projects get done in record time

Click Here for Specifications

Tiffany Pratt, a designer, maker and BERNINA expert for the B 475 QE.


7 More Videos on Bernina B475QE


∙ PERFECT STITCHES WITH THE BERNINA HOOK
∙ POWERFUL DC MOTOR FOR THICK MATERIALS
∙ FEWER INTERRUPTIONS WITH THE JUMBO BOBBIN
∙ FRONT-LOADING BOBBIN FOR EASY ACCESS
∙ CONVENIENT AUTOMATIC THREAD CUTTER (B 475 QE & B 480)
∙ 7" TO THE RIGHT OF THE NEEDLE
∙ EASY-TO-NAVIGATE 4.3" COLOR TOUCH SCREEN
∙ ADJUSTABLE PRESSER FOOT PRESSURE
∙ LARGE SELECTION OF SEWING STITCHES AND ALPHABETS
∙ BERNINA STITCH REGULATOR FUNCTIONALITY
(B 475 QE & B 480)
∙ CREATIVE SEWING CONSULTANT FOR ON THE SPOT ADVICE

Technically Speaking: BERNINA 535, 480, 475 Top
Tension Not Releasing
Recently we were made aware of an intermittent issue with top tensions not releasing after a thread cut, thus causing
tension issues and bird nesting.
When an operator selects the auto thread
cutter and does not wait until the cutting
process is complete, lifts the presser foot
by hand or by FHS, there is a sporadic
chance the top tension is not releasing.
We have also seen the hour glass icon
spinning.
With machines that have an automatic
presser foot lifter the timing between cutter and lifter action is governed by the
FW, therefore we do not see such issues.
For right now we can provide this solution.
If such issues appear, please let the consumer know to slow down and let the
machine cut the thread first before the
presser foot is lifted.
Lowering and then raising the presser
foot bar should release the top tension
disks. This may take 2-3 times to release.
If the hourglass appears it maybe required to reboot the machine.
US Warranty 25 years head, 2 years electronics, 1 years labor
Extended US Warranty: Extended Warranty Available
Non-US Warranty: 30 days parts and labor
Other Images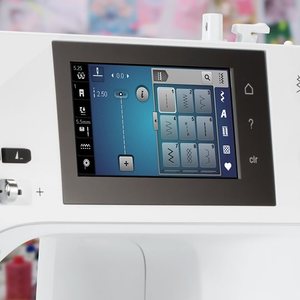 Easy to navigate touch screen ~ Modern color touch screen ~ Easy to use with simple navigation ~ On-screen support when needed Always ready to be of assistance, the Sewing Consultant helps find the right settings. And suggested tips are easily made with the multi-function knobs.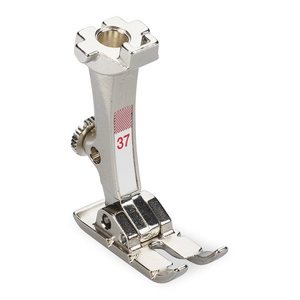 Patchwork foot #37

~ Designed for straight-stitching
~ Ideal for sewing 1/4" seam allowances
~ Extra insurance for experienced piecers

Every quilter appreciates the Patchwork foot #37 for its accurate feeding and stitching when piecing patchwork blocks with perfect precision.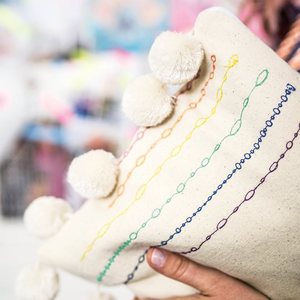 Adjustable Presser Foot Pressure

~ Sew any material perfectly with ease
~ Increase pressure for thin materials
~ Reduce pressure for thick materials

Individual adjustment is easy to make, ensuring the ideal pressure is achieved for any and all materials no matter how thick or delicate.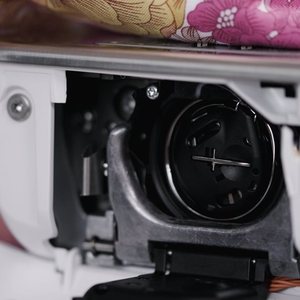 Nice, easy perfect stitches

~ Sew perfect stitches with 5.5 mm stitch width
~ Sew even longer with the jumbo bobbin
~ Conveniently, front-load bobbin

Perfect precision is achieved with each stitch thanks to the BERNINA Hook. Plus, projects are done faster with speeds up to 900 stitches per minute.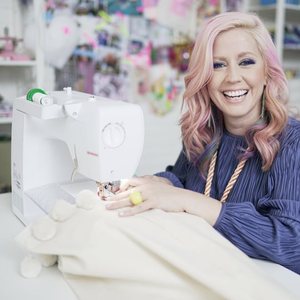 Keep your hands on the fabric

~ Hands-free sewing is reality
~ Hands are free to guide the fabric
~ Simultaneously raises/lowers presser foot and feed dog

The BERNINA Free Hand System lets you lift or lower the presser foot using only the knee lifter, allowing hands to guide your projects to bigger and better things. "You don't need to sew perfect, the machine will make it magic."
Talented. Energetic. Creative. Bold. A maker like Tiffany relies on the B 475 QE to be powerful, easy to handle, fast and magical. Day in and day out. And her BERNINA never fails to deliver. She loves it and you will too.
Tiffany Pratt Designer and Maker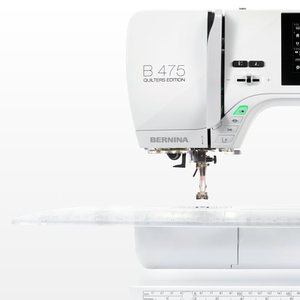 Automatic features save time

~ No more manual threading
~ Press a button to cut your thread
~ Save time for more creativity

Threads are cut automatically, or if you prefer, magically. Even the needle lifts leaving your hands free to keep on creating.

Bernina Credit Card Financing
Bundle & Save
Get additional savings when you purchase any of these items along with this product.