Three needle types for felt & multiple crafts. NonStick resists glue & sticky fusibles. Denim with reinforced blade performs on heavy sewing projects. Universal is a general purpose needle.
Contains Super NonStick 80/12; Jeans 90/14; Universal 70/10, 80/12, 90/14 needles.
New announcement from Schmetz below! You will know they are chrome needles because it will be listed on the package. Coming late 2021!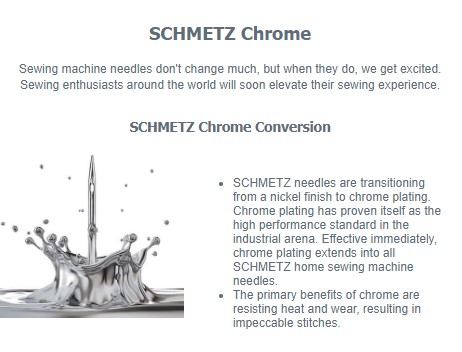 Specifications
Schmetz Felt & Craft Needle Combo 5-Pack Three needle types for felt & multiple crafts. NonStick resists glue & sticky fusibles. Denim with reinforced blade performs on heavy sewing projects. Universal is a general purpose needle. Needle types & sizes: Super NonStick 80/12; Denim/Jeans 90/14; Universal 70/10, 80/12, 90/14 -
GPC: Home & Garden › Household Appliance Accessories › Sewing Machine Accessories › Sewing Machine Needles
This product cannot be added to your cart at this time