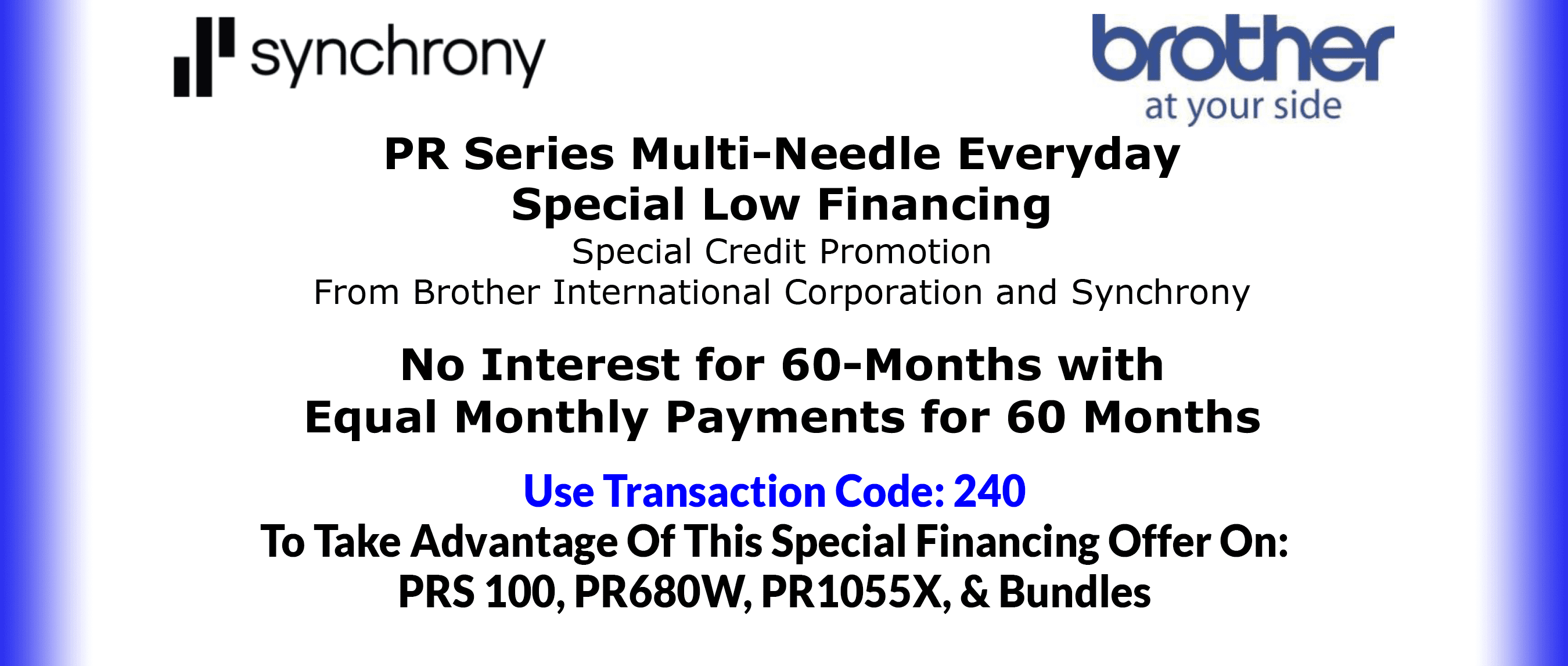 * Synchrony Bank Sewing & More Fixed Payments 0% No Interest Financing Option with approved credit! Click HERE to Apply Online for Synchrony Bank Sewing & More Credit Card Approval for 0% Optional Financing
Brother Premium Warranty 2 years parts and labor, 6 years electronic parts, 25 years metal casting..
CRUSH YOUR CREATIVE EMBROIDERY GOALS
Side Hustle Superstar Accessory Bundle (PR10ACCBNDL) Includes:
PR1055X
The PR1055X comes equipped with some of the most powerful design and editing capabilities ever built into a multi-needle embroidery machine. Take a closer look at the revolutionary Entrepreneur® Pro PR1055X, a highly powerful and efficient 10-needle embroidery machine, but with the ease-of-use and reliability that only Brother can provide. The PR1055X raises the bar within the industry for embroidery enthusiasts, crafters and home-based entrepreneurs.
Just when you think you've reached the limits of creative freedom, look again...eXplore the possibilities!
Click here for more information on the Brother PR1055X (.pdf)
Multi-Needle Comparison Chart Entrepreneur Pro X PR1055X, Entrepreneur Pro X PR1050X, Entrepreneur 6-Plus PR670E, Persona PRS100 (.pdf)
New Features:
Wireless LAN
Choose either wireless LAN or USB cable for link mode for PE-Design

Easy to connect and place machines—you can connect up to 10 machines!

Quilt sashing function with live camera

New 2-color quilt sashing is now available!

Only the "Semi-Auto split quilt sash" function is available.

Available frames for this function: LLL (360 x 200), LL (300 x 100), Border Frame (300 x 100), Magnet Sash Frame (360 x 200)


New Embroidery Data

5 patterns of 2-color quilt sashing are now available.

26 new patterns of decorative fill are available on My Design Center.

Thread spool change and thread breakage message on LCD

When you need to change threads "New Message" will be displayed and the LED light for the sew area will flash.

If you close the popup, you can recall "Change Thread Spool Information" before flicking the unlock key.

Alignment function on editing

Individual start point setting for each embroidery element

To make each embroidery element positioning easier, starting points are set individually.

You can choose either whole elements or individual elements.

Sound volume setting for operations and notification

Lighting brightness setting for sewing and notification

New embroidery screen

My Stitch Monitor

Monitoring app for machine

Upgrade in My Stitch Monitor for multi-needle machine

New Accessories: Flat brim cap frame (set), magnetic sash frame, and tubular frame table

New Technology from Other Models

Undo/redo function on editing (from Stellaire)

Re-editing function of lettering (from XP-Luminaire and Stellaire)

Thread brand changing (from XP-Luminaire and Stellaire)

Favorites button for color shuffling (from XP-Luminaire and Stellaire)

Echo quilt function (from XP-Luminaire)

Same color button (from PR670)

No sewing button (from PR670)

New UI and redo function from My Design Center (from XP-Luminaire)

Increase date displaying format choices (from XP-Luminaire and Stellaire)

FEATURES:
•10 Needles and Large 10.1" Built-in High Definition LCD Display
Increase your productivity with 10 needles and stitch designs up to 10 colors without changing thread. View your creations in a classleading crisp, vivid color LCD display and navigate easily with the scrolling menu and large, intuitive icons. View 29 built-in tutorial videos or MP4 files on-screen.

•Brother-Exclusive My Design Center Built-in Software for Virtually Endless Design Possibilities
Draw designs directly onto the screen or use the included scanning frame to scan art to embroider. With up to 1600% zoom, view the smallest details of your designs on the LCD display.

•Add Beautiful Stippling and Decorative Fills
Accurately add stippling or echo stitching to any embroidery design, or save the outline, and then choose from 26 new built-in decorative fill patterns. With the embroidery preview mode now 40% wider, see the selected stippling or fill patterns before you begin to stitch.

•Enhanced Embroidery Editing
Elevate your embroidery with the best in class editing features. Left, center, and right alignment; undo and redo functions; grouping after line break; edit a single letter or a full line of text; and 'no sew' buttons allow you to turn off color sections of a design.

•Color Sort
When combining designs, you can be even more efficient by having the machine sort the stitch order by color which reduces color changes and needle bar movement to minimize embroidery time.

•Zoom Features
Watch your creations become larger than life with the new zoom function of up to 1600% within My Design Center and up to 200% in other modes.

•Create Beautiful Sashing
Create beautiful sashing and border patterns sized perfectly for your quilt, up to 118" x 118"!

•Projects with Personalization
Enjoy over 1,100 built-in embroidery designs and 40 size-adjustable embroidery lettering fonts.

•Custom Draw
Draw or doodle directly on the LCD display and watch it spring to life in the large drawing area. Or, use the industry-first ScanImation Scanning Frame to scan drawings, line art, handwriting or printed clip art, and have it transformed into embroidery data.

• High-Speed Background Scanning
It's like having a built-in camera and scanner! The ability to scan the entire embroidery area provides virtually endless creative options and helps ensure that all your projects are perfect. Precisely place your design exactly where you want it every time. Just scan your fabric or garment, preview your design on screen, and you're ready to embroider.

•Expandable Library of Built-in Tutorial Videos
Built-in HD tutorials make learning easy! View 29 tutorial videos directly on the high-definition LCD display, or stream your own creations using the industry standard MP4 format.

•Notification Feature
There's no downtime with an important notification system, so you can be super productive. White lights under the needles flash to indicate project completion and thread changes or breaks.

•10-Needle Auto Threading
Makes threading simple! As the only multi-needle machine with a built-in automatic needle threading system, you'll thread each needle in seconds - with just the touch of a button!

•Built-in Embroidery Designs and Fonts with Fast Embroidery Speeds
Explore 1,184 built-in embroidery designs, including 140 frame pattern combinations, 40 size-adjustable embroidery lettering fonts, and 11 monogramming font styles. Embroider up to 1,000 stitches per minute in just seven seconds flat with industry leading high-speed acceleration. Get inspired by a wide range of creative designs and fun patterns that are sure to add some artistry to your next project.

•Expansive Embroidery Area of 14" x 8"
Perfect for large projects, including quilts and jacket backs. Includes four sizes of embroidery frames: 14" x 8", 5" x 7", 4" x 4", and 2" x 1.5". The machine will automatically detect the size of the hoop needed.

•Industry-First InnovEye Technology with Virtual Design Preview
Get a real-time camera view of the needle area and see your embroidery design on your fabric – no scanning needed! Also, scan your fabric or garment, preview your design on-screen, and you're ready to embroider. It works with the optional cap and cylinder frames for tight spaces.

•Wireless LAN Connectivity—My Stitch Monitor Mobile App
Keep track of your embroidery with the My Stitch Monitor mobile app on your iOS or Android device. Follow the progress of your project and get alerts when it's time to change threads or when your embroidery is finished.


•Wireless LAN Connectivity—Link Function
With wireless LAN connectivity and PE-DESIGN 11 software*, you can link as many as 10 machines without a cable.

•Magnetic Sash Frame* Patent-Pending Brother-Exclusive Hoopnetic Magnetic Frame
Hoop and embroider thick materials with ease. Avoid fabric shifting and the need to re-hoop the fabric when connecting designs or embroidering large areas. Just slide the fabric on the frame for the next area to be embroidered.

•Tubular Frame Table*
Embroider easily on sleeves, pants, and other tubular items. Serves as extra support for big fabrics. Easily attach and remove with no space between machine and table.

•Flat Brim Cap Frame* Patent-Pending Industry-First 'Scratch-Free' Flat Brim Cap Frame
Embroider more types of hats than before with the easy-to-use 'scratch-free' cap frame. You can stitch an industry leading 35% closer to the brim (6-10 mm), depending on the cap.

*Magnetic Sash Frame, Tubular Frame Table, and Flat Brim Cap Frame are all recommended accessories. Additional purchase required. See below for other recommended accessories!

PR Recommended Accessories:

Magnetic Sash Frame

360 x 200 mm sew area

Easy to hoop fabric

There is no need for pressure or physical force to be able to hoop the fabric. The magnets only need to be affixed while straightening out the wrinkles in the fabric.

The fabric slides while retaining 1 small magnet each on the upper and lower side of the frame and allows parallel sliding.

You can frame very thick material without exerting any force.

You can easily sew the center area of huge material

Tubular Frame Table

Embroider on sleeves, pants, or anything else tubular with this table

Can attach the table for sewing long fabrics

Helps with stable sewing by supporting the fabric with the frame

Flat Brim Cap Frame

Affixing the upper frame simply by pressing allows correct alignment by aligning the center of the frame and the cap.

The cap curves according to its natural curvature. It allows the original shape to be retained without any distortion or scratches without removing the frame.

Flat Brim Cap Frame Set

Embroider closer to the brim with easy alignment and ratcheting mechanism

The cap curves according to its natural curvature. It allows the original shape to be retained without any distortion or scratches without removing the frame.

Includes hooping jig, cap frame, and driver

Easy to attach and release

No need for clamping

Positioned so there is no contact between the brim of the hat and the machine

PR Playbook

A step-by-step guide to the amazing features on the 10-needle embroidery machine

34 individual projects with accompanying videos—more than 5 hours of instruction

The videos are located on the included USB drive and can be viewed from your machine as well as from your computer.

Compatible with PR Series machine, PR1055X

Includes one USB with 34 projects and video instruction

See Brother PR1055X Brochure



Three visions. Three businesses. Three stories to tell.
When will your business live in your home? Let's talk about business. People all over the country are starting their own home-based businesses making things they love and sharing their experience. Watch inspiring stories from some incredible makers and get tips and tricks on how to help start your business.

Perfect for embroidery enthusiasts, hobbyists, and crafters. Perfect for home-based entrepreneurs. And simply perfect for anyone looking to step up their productivity and creativity.

Introducing the Brother Entrepreneur Pro X PR1055X Multi Needle Embroidery Machine




PR Stand
Designed for use with the PR1055X, this attractive metal stand helps provide a stable base for your machine.
• Wide table area with rounded edges
• Extra storage for all your large frames
• Secures to your machine with locks to resist vibration while in use
• Locking wheels allow for easy moving and transportation
• Height-adjustable legs
• Space for the cap frame, which is ideal for prepping hats for embroidery
• Large shelf has supportive dividers for convenient hoop storage, and storage for accessories, instruction books and small supplies
PRNSTD2

Wide Cap Frame and Driver Set
Provides expanded embroidery area, allowing you to stitch caps virtually ear-to-ear.
• Total embroidery area is 14" x 2-3/8" (60mm x360mm).
• Expanded embroidering area for caps
• Convenient snap-on hoop
• Includes wide cap frame, cap frame driver, and mounting jig
PRPCF1

Durkee 7-Piece EZ Frames Combo Pack
Simple, yet effective way to hoop your more difficult-to-hoop items. Frames hold your fabric in place with our adhesive stabilizer and start stitching.
• Stitch comfortably up to 1,000 stitches per minute
• Durable frames with 3/16" anodized aluminum
• 7-piece set comes with the Main Attachment Arm, (1) 2" x 4", (1) 2.5" x 4", (1) 3" x 4", (1) 5" x 4", (1) 7" x 5", and (1) 8" x 8" hoops, and Cap Back/Radius frame
• Comes with Durkee's limited lifetime replacement warranty
• Adhesive stabilizer, SA5820 or SA5815 is required. Additional purchase required
SAEZ7MN
Specifications
PR1055X
Manual for Brother PR1055X
Brother PR1055X Software version 1.11
Quick eference Guide for Brother PR1055X
Embroidery Designs Pattern List for Brother PR1055X
Installation Manual for Included Extension Table Set
Multi-Needle Comparison Chart Entrepreneur Pro X PR1055X, Entrepreneur W PR680W, Persona PRS100
NEW Brother accessories online catalog by machine model numbers
Basic Features:
LCD Display Size (Diagonal): 10.1" (5.3" x 8.5")

Display (Number of Colors): 16,777,216

Stitch Select

Onscreen Help

29 Built-In Tutorial Videos

Built-In Languages

On-Screen Editing

Runway Lighting with 5 Built-in LEDs

Manual Thread Tension

Automatic 10 Needle Threading System

3 Individual Needle Attribute Settings: Maximum Speed/Color Anchor/Needle Threader

Thread Sensors: Upper and Lower with On/Off

Automatic Thread Cutter

Thread Wiper

Jump Stitch Thread Trimming

Thread Trim Setting Key

Vertical Quick-Set Bobbin

2 Full USB Ports

Computer Connectivity with Update Capability

Mouse Capability by USB

Media Type: USB

InnovEye Plus Technology

High Background Camera Scanning

Virtual Design Preview

Wireless Compatibility

Compatible with My Stitch Motor Mobile App

Embroidery Features:

Maximum Embroidery Area (X x Y): 14" x 8"

Maximum Embroidery Speed: Up to 1,000 SPM

Sewing Speed for Frames 400 - 1,000 SPM

Sewing Speed for Caps 400 - 600 SPM

Free Arm Embroidery

4 Standard Included Frames: (14" x 8", 5" x 7", 4" x 4", 2" x 1.5") and ScanImation Scanning Frame (8.5" x 12")

1,184 TOTAL Built-in Brother Embroidery Designs

173 Embroidery Designs

140 Frame Designs (10 Shape x 14 Stitch Patterns)

100 Utility Stitch Patterns

30 Buttonhole Patterns

37 Basic Fonts

661 Decorative Font Patterns

18 Built-in Monogram Designs

25 Quilt Sashing Functions

My Design Center Features

Resume Function

Built-in Border Function and Designs

Color Sort Feature

Color Shuffling 2 Function

Pause Setting

Appliqué Creator Function

Create Multiple Appliqués in One Hoop

Insert Letter at Midpoint of Text Line

Input Second Line of Text

Align Left, Center, Right

Grouping after Line Break

Edit Single Letter

Edit Full Line of Text

3 Thumbnail Sizes (L-M-S)

Grouping of Letters and Designs

Direct Touch Button for Color Change

Bigger Start/Finish Point Setting Area

Direct Touch Button for Embroidery Order

Manual Color Sequence

Space Reduction Among Embroidery Alphabets

Pattern Rotating: 0.1, 1, 10, or 90 degrees

Drag and Drop Editing

On-Screen Automatic Density Adjustment

Basting Stitch Before Embroidery

Smart Stitch Management: Forward or Backward/Direct Key Entry

Preview Designs Before Stitching

Stitch Simulator

Stippling Feature

Echo Quilting

LCD Panel Features:

Display: Color 4.4"x7.3" ASV HD LCD display with enhanced 176° viewing angle and 16.7 + million colors

Adjustable screen brightness setting

On-screen tutorials, with videos & diagrams

Zoom Function: 200% in Preview and 1600% in My Design Center

On-screen editing: Rotate, mirror image, move, copy, enlarge/reduce, letter spacing, thread density, and group/ungroup edit functions

Preview designs before stitching

Screen saver: 5 built-in images included; personalized functionality

Adjustable design icon size setting

Workspace Features:

Runway® lighting: 5 LED lights, equivalent to 35 standard bulbs - 5 customizable brightness settings

Extra-large table (included)

Thread and Needle Features

10 Needles

10 Spools

Auto needle threading

Numbered threading guides

Eyelet threading system for consistent thread tension

Thread anchor



Innovachrome™ LED Thread Color System:


Number of LED lights with on/off modes: 10
Correct thread color indication: Improved LEDs with brighter, more uniform colors, able to display more than 300 colors for visual indication of correct thread color
Light and audio cues, with on/off modes: Yes
Light and audio cues to alert thread change: Yes
Light and audio cues to alert thread breakage: Yes
Light and audio cues to alert finished design: Yes



Speed Features:


Sewing speed - frames: 400 to 1000 spm
Sewing speed - caps: 400 to 600 spm
Speed adjustment: Adjust individual needle speed from 400 to 1000 spm (frames); 400 to 600 spm (caps)



Built-in Designs and Fonts:


Built-in Brother exclusive designs: 110
Built-in alphabet fonts: 28 size-adjustable embroidery lettering fonts
Built-in alphabet designs: Renaissance, Floral, Appliqué and Greek
Monogramming font styles: 3
Coordinating Accents: 15
Frame Designs: 10



DESIGN EDITING FEATURES:


On-screen editing: Yes
Color palette: 300 colors



Design Positioning Features:


InnovEye® Technology: It's like having a built-in camera above the needle, providing a bird's eye view of the needle area
Snowman® Embroidery Positioning Marker: Works in conjunction with the InnovEye® Technology for precise positioning
Grid function: View grid and design on LCD display for precise alignment




Link machines to one computer: Link up to four PR1000 series or upgraded PR650 series machines to one computer

Allocate and queue designs: Yes
Queue up to 100 designs: Yes
Status monitoring on computer screen: Yes
Minimize thread changes: Yes



Memory And Media Recognition Features:


Built-in memory: 1.7MB; save up to 500,000 stitches to memory
USB ports: 3 ports; 1 high speed port, 1 port for machine peripherals, 1 port for computer connectivity and upgrades



Warranty 2 Year: Parts and labor. 6 Years: Electronic Components and Printed Circuit Boards. 25 Years: Chassis
Machine Dimensions (H x W x D) 32.20" L x 29.84" W x 41.30 " H
Machine Weight 119.05 lbs

Brother Premium Warranty Documentation

We would like to inform you we have released a software update, version 1.13, for the Entrepreneur Pro X PR1055X on Brother Solutions Center. Updating your multi -needle embroidery machine with this software will enhance your embroidery experience.

Improved so that the selected needle bar stays at the current sewing position when the Home key is pressed.

Ensure proper detection of available Wi-Fi channels.
Please click here to visit the Brother Solutions Center to view/download the update. Once at the site, select your Operating System.

We would like to inform you we have released a software update for the Entrepreneur Pro X PR1055X on Brother Solutions Center. Updating your multi -needle embroidery machine with this software will enhance your embroidery experience. Version 1.10 Updates:

Versatile magnetic frame M / L can be recognized on the machine.

Update files can be downloaded directly to the machine by using wireless-LAN.

Data landing page can be selected when using the Link function.

Improved the function to be able to select and delete multiple pattern data at once.

Improved the user-defined thread color sequence display on the screen.
* To learn about the above new features, read the instructions about the update Ver.1.10 in the Operation Manual Addendum. Please click here to visit the Brother Solutions Center to view/download the update. Once at the site, select your Operating System

Brother and Baby Lock Design Database Transfer Software
Hello Everyone! Just downloaded and played with the new Brother and Baby Lock Design Database Transfer program. This is a FREE program that allows you to transfer your designs wirelessly from your machine if it has the wireless feature! So cool! You can also search for designs, print catalogs of designs and manage your designs with this free program. You need to download the Baby Lock version for the Baby Lock machines or the Brother version for the Brother machines. Here are the links to the programs and manuals and also a Design Database class I have on Youtube. Enjoy!
Brother: https://support.brother.com/g/s/hf/pc...
Baby Lock: https://babylock.com/accessories/soft...
Jan's Design Database Class: https://www.youtube.com/watch?v=OztTd...


Included Accessories
PR1055X
PR Stand (PRNSTD2)
Wide Cap Frame and Driver Set (PRPCF1)
Durkee 7-Piece EZ Frames Combo Pack (SAEZ7MN)