*Optional Synchrony Bank Sewing & More Fixed Payments 0% No Interest Financing Option with approved credit! Click HERE to Apply Online for Synchrony Bank Sewing & More Credit Card Approval for 0% Optional Financing.
Brother Premium Warranty 2 years parts and labor, 6 years electronic parts, 25 years metal casting..
"AllBrands is a Brother Authorized Dealer and ASC Authorized Service Center for any repairs including warranty parts and labor. We give unlimited technical support by email, fax, and phone. We service machines in our stores and/or refer to the nearest ASC centers nationwide. Mass merchants do not have tech service or repair departments for your equipment. They are unable to help you directly, only referring any operational, mechanical, or electronic questions back to the manufacturer instead of taking care of problems themselves. Manufacturers and customers should expect that any problems will be taken care of by the dealer or merchant who sold you the equipment, not just by referring your requests back to the manufacturer." John Douthat, Owner & Tech
When you are ready to step into the world of embroidery and take your skills from the home to a home business, the Entrepreneur One PR1X is ready to take you there. The single-needle PR1X has precision crosshair accuracy and a generous 8" x 12" embroidery area to get you started. The 495 built-in embroidery designs include modern art and groovy patterns to monogram and quilting designs, while the included free arm allows you to embroider hard-to-reach areas like caps, sleeves, and bags with ease. The world of embroidery awaits you with the Entrepreneur One PR1X. Where will it take you?
Single-Needle Versatility
- The Entrepreneur One PR1X Single needle embroidery machine has free arm embroidery to easily reach areas like caps, sleeves, and bags and an automatic needle threading system so you can quickly spool your needle.
Crosshair 2-Point Positioning Laser
- Get precision accuracy positioning and light up your fabric to see where the needle will drop for all your projects with the Crosshair 2-Point Positioning Laser.
Generous Workspace
- The Entrepreneur One PR1X has a generous 8" x 12" embroidery area for just about any sized project.
Built-in Embroidery Designs
- Create something new with 495 built-in embroidery designs ranging from stylish wildlife motifs and funky alphabet styles to traditional appliqués.
Funky Fonts
- The list of fun built-in fonts includes 25 regular-sized fonts, 4 small fonts, 1 super small font, 2 Cyrillic fonts, and 1 super cool 3D font.
Color LCD Touchscreen Display
- The large 7.0" built-in high-definition LCD display, with large icons and a scrolling menu, makes on-screen editing and letter input a snap. Large defined icons, thumbnail size selector, color navigation, scrolling menu, and swipe capability.
LED Lighting
- With bright, customizable lighting, you can illuminate your work to see colors clearly with virtually no shadows!
Bobbin Feature
- Save time with the Vertical Bobbin for easy bobbin changes without removing your hoop and the Side Bobbin winder so you can wind a new bobbin while the machine is embroidering.
Expandable Library of Online Tutorials
- The Entrepreneur One PR1X HD tutorials make learning easy! Tutorials are online and available 24/7 whenever you need a quick refresher.
On-Screen Editing
- Input multiple lines of text or lettering and insert graphic elements, all with the capability to edit. Rearrange words or phrases, combine selected words, change the style and size of individual letters, and even change the font style of a whole line. Easily align text Left, Center, and Right. Perfect for embroidering multiple-line poems, phrases, and wedding announcements.
Manufacturer's US warranty 25 Years Head, 6 Years Electrical, 2 Years Parts, 2 Years Labor
Extended US Warranty: Extended Warranty Available
Non-US Warranty: To view the warranty for this combo, please view specific warranty information on the individual product pages.
Specifications
PR1X Manuals, Downloads, Warranty Statements and FAQ's
Weight: 68.34 lbs.
Footprint: 23.1" L x 19.92" W x 22.24" H
Basic Features
LCD Display Size (Horizontal x Vertical) Inches: 3.6 x 6.0

Display (Number of Colors): 260,000

Opening Screen

Stitch Select: Touch Screen

On-Screen Help

Built-in Languages

On-Screen Editing

Lighting: 4 LED Lights

Adjustable Screen Brightness Settings

Thread Tension: Manual

Needle Threading System: Advanced – Multi-Needle Style

Easy Bobbin Winding: On Side of Machine

Adjustable Bobbin Winding Speed

Thread Sensor

Thread Sensor On / Off: Upper and Bobbin

Automatic Thread Cutter

Vertical Bobbin

Full USB: 1

Computer Connectivity with Update Capability

Media Type: Several Media via USB

Embroidery Features

Maximum Embroidery Area (X x Y): 8" x 12"

Maximum Embroidery Speed (Stitches Per Minute): 1,000 spm

Standard Included Frames: 2 (12" x 8" and 4" x 4")

Built-in Brother Embroidery Designs: 495

Built-in Embroidery Lettering Fonts: 33

Built-in Alphabet Designs: 8

Built-in Frame Designs: 10 Shapes x 14 Stitch Patterns

Built-in Border Function and Designs

Thread Wiper

Resume Function

Trial Position / Layout Function

Curving Text on Screen Editing

Multiple-line Text Input and Alignment (Left, Center and Right)

Color Ordering

Pattern Rotating: 1, 10, or 90 Degrees

Drag and Drop Editing

Zoom Function: Zoom to View Many Designs up to 200% Actual Size

Preview Designs Before Stitching

Programmable Monochrome Embroidery

Basting Stitch Before Embroidery

Stitch Forward / Backward: 1, 10, 100, 500 Stitches

Crosshair 2-Point Positioning Laser

Cap Frame Capability
Included Accessories
Embroidery Frame Set, 12" x 8"
Embroidery Frame Set, 4" x 4"
Prewound Bobbins
Metal Bobbins
Seam Ripper
Needle Plate Cover
Oiler
Cleaning Brush
Thread Hook
Touch Pen (Stylus)
Accessory Case
Operation Manual
Quick Reference Guide
Additional Accessories included in the Box
Other Images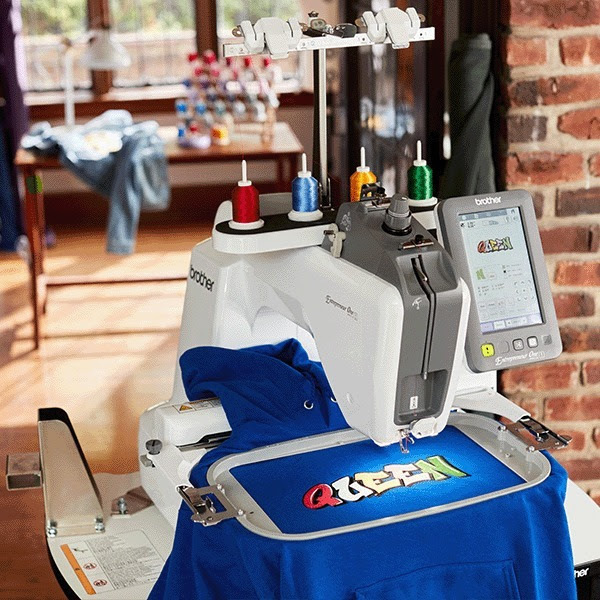 Entrepreneur One PR1X With this single-needle embroidery machine, go from hobbyist to entrepreneur with a generous 8" x 12" embroidery area, precision crosshair accuracy, and plenty of built-in designs to choose from!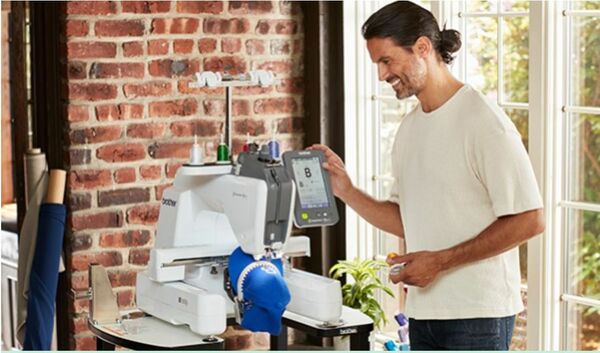 Entrepreneur One PR1X With the Entrepreneur One PR1X, create new projects on the large 8"x 12" embroidery area or add an upcycling touch using one of the over 350 built-in embroidery designs, 33 built-in fonts, or browse the Brother iBroidery page for more inspiration.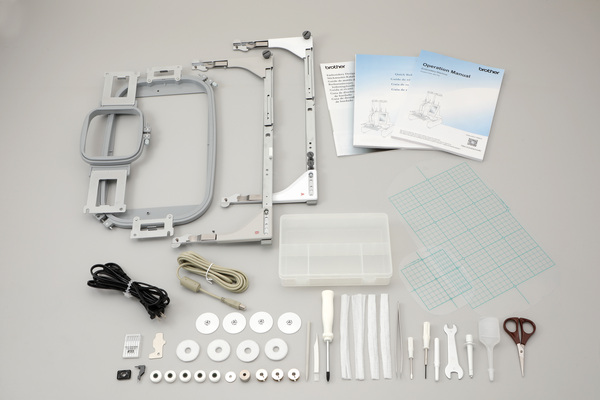 Brother Entrepreneur One PR1X included accessories