Durkee proudly introduces their Ten Needle Power Pack created specifically to "Optimize" ten needle machine owners embroidery
experience. This package includes three (3) Best Sellers from Durkee Hoops. Each was designed for its' own ease of use, practical
application for simplifying difficult to hoop items, and for product durability. This package will truly enhance the value and enjoyment
of your ten needle machine. The first item is the Durkee 14" x 14" (sewing field) SturdiFrame. It is to be attached to the "B" arms of the 10 needle machine and
the frame will be recognized as the 14" x 14" Jumbo hoop. This frame is excellent for split design projects requiring a larger sewing field. Simply apply sticky backing to the underside of the SturdiFrame and slide the frame brackets into the "B" arms of your 10 needle
machine. Then, just "float" the item to be embroidered onto the frame and press down to adhere the fabric to the backing and stitch!
Smaller projects...no problem! The second item in the Power Pack is the EZ Frame 7 piece combo pack. This incredibly versatile
selection of frame sizes makes difficult to hoop items a breeze. Durkee EZ Frames provide a stable platform for your embroidery
projects. Better stability means less bounce...better registration...better results!
The third member of the Power Pack has literally changed thousands of embroiderer's attitudes from refusing to attempt
embroidering caps to self-proclaimed cap embroidery artists...the Durkee Multi-Needle Cap Frame. The Durkee Cap Frame offers
a sewing field as large as 5" wide and 4 1/2" tall for logos, special designs, or monograms. Perhaps the best of all is its' simplicity of
use...the cap frame fits into the "A" arm of the ten needle machine just like a traditional hoop.
Introducing Durkee "EZ Frames" for multi-needle Embroidery machines. EZ Frames are a simple, yet effective, system for hooping otherwise difficult to hoop items. Simply apply sticky backing to the underside of the frame with the sticky side up. The adhesive on the backing holds your project in place while the machine is stitching.
*Durkee has less vibration with 3 times the thickness of frames with almost no vibration up and down, compared to Fast Frames.
Stability
- due to their thickness and strength, you can stitch comfortably with EZ Frames at 1,000 stitches per minute!
Strength
- EZ Frames are constructed with 3/16" anodized aluminum to provide years of consistent, uninterrupted performance. This compares to Fast Frames 1/16" metal frames which have a lot more vibration up and down movements.* EZ Frames also has larger Thumb Screws for ease of tightening and loosening.
Save
- A lower purchase price means up-front savings and higher operating speeds
means more production in less time!
Durkee EZ Frames from Emanuel Neiconi on Vimeo.
US Warranty Limited Lifetime
Non-US Warranty: 30 days parts and labor
Specifications
Eight (8) piece combo pack includes the Main Attachment Arm and one (1) each of the following frames:
2" x 4"

2.5" x 4"

3" x 4"

5" x 4"

7" x 5"

8" x 8"

12" x 8"

Cap Back/Radius Frame





DURKEE HOOP GUARANTEE
It is our pleasure to detail the guarantee provided for our tubular hoop line. We guarantee the plastic component of the round hoops for a lifetime against manufacturer's defects.
We will exchange the plastic component at no cost provided the breakage is not due to abuse or using the parts in a manner not consistent with commercial embroidery practices.
Included Accessories
Includes:
2" x 4"

2.5" x 4"

3" x 4"

5" x 4"

7" x 5"

8" x 8"

12" x 8" Frames

Cap Back/Radius Frame
Other Images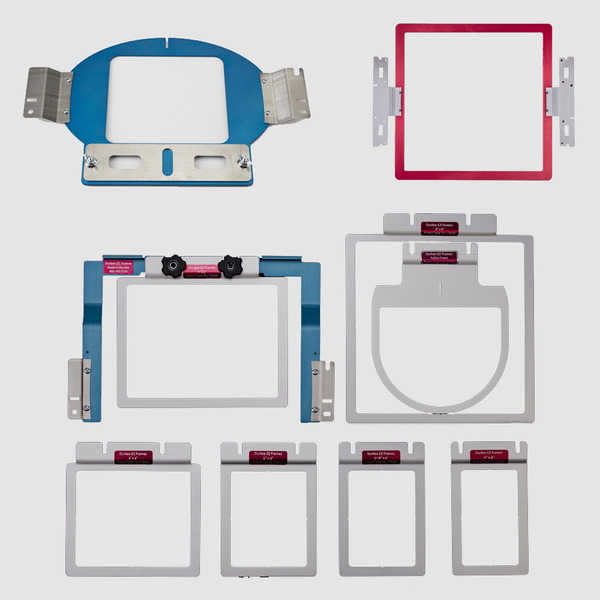 Durkee Ten Needle Power Pack for BR/BL 10 Needle Machines, 14x14 SturdiFrame, 7PC EZ Frames, Arm & Cap Frame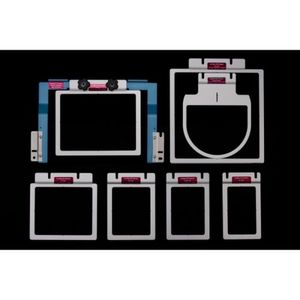 Includes 8in1 EZ Frames Hoops Set 3/16" Aluminum for Brother PR6 PR10 & Babylock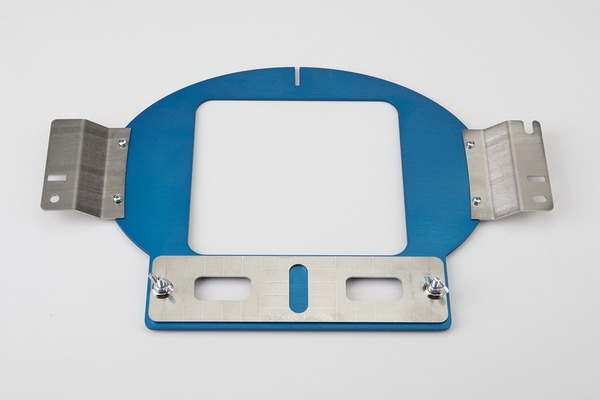 INcludes Brother/Baby Lock Multi Needle Cap Frame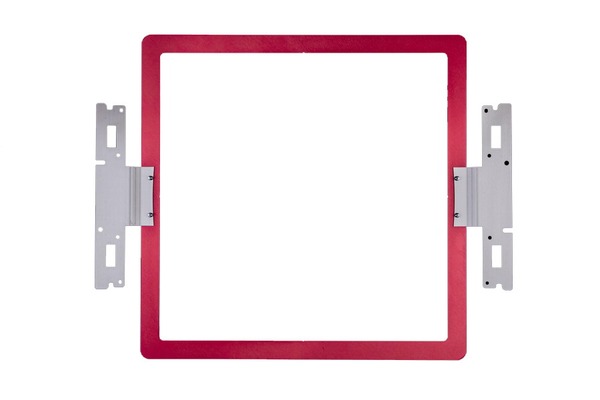 Includes 14" X 14" SturdiFrame for Baby Lock and Brother 6 & 10 Needle Machines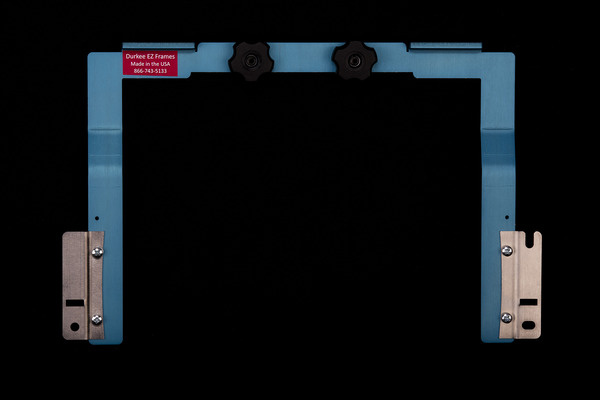 Includes Arm for 7 EZ Frames
Durkee EZ Stitching Video Project Tutorials Featuring Mike Johns
Project #1 Baby Onesies
Durkee Hoops 5"x9" Baby Onesie Project from Brent Taylor on Vimeo.
Project #2 Embroidered Stuffed Animals
Embroidering a Stuffed Animal Using EZ Frames on the Multineedle Machine from Brent Taylor on Vimeo.
Project #3 Christmas Stockings
Christmas Stocking Using Durkee EZ Frames on Multi-Needle Embroidery Machine from Brent Taylor on Vimeo.
Project #4 L/R Chest Embroidery
Left-Right Chest Embroidery - Multi-Needle Machines from Brent Taylor on Vimeo.
Why won't my machine recognize the correct size of hoop I Have installed on the machine?

On the rare occasion this issue comes up, the answer is the same. . Durkee EZ Frames have nothing to do with the issue. In fact, the customer should take them off and set them aside to fix the problem. The "A" arm of the machine has multiple positioning locations that, when properly aligned, cause the machine to "recognize" the hoop attached to the arm. In this instance the word "recognize" refers ONLY to the hoops that came with the machine or other OEM hoops from Brother available for that machine. Those positions on the "A" arm are small slots or grooves. In order for the machine to recognize the correct hoop, the left side (adjustable arm that moves left and right) must align perfectly in any given slot and the knob that holds it tightly secured. If these two criteria are not met, the machine "assumes" the next smallest size hoop.
Thus, if the customer will remove any/all hoops or frames from the machine and adjust the "A" arm correctly in the proper slot and tighten the thumbscrew/knob securely, the machine will "think" it has a 7 7/8" x 11 7/8" hoop attached and the problem will be solved. This hoop is usually and inaccurately referred to as a 12 x 8 hoop. Brother identifies this hoop as their "Large" hoop. Because the machine "thinks" it has a 12 x 8 hoop in place is why the customer must ALWAYS center their #1 needle in the middle of the EZ Frame or hoop and trace their design.